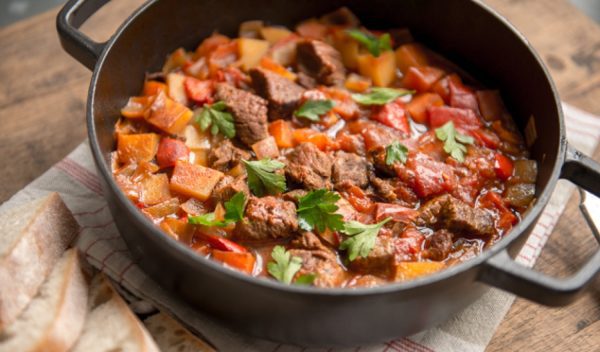 Goulash Recipe
Goulash, the iconic Hungarian dish, is a rich and flavorful stew that has gained popularity worldwide. Originating from the Hungarian countryside, this delicious dish has a fascinating history and a unique combination of ingredients that make it a comforting and satisfying meal.
In this article, we will explore the history of goulash, provide a step-by-step recipe guide, and highlight the nutritional information for those conscious of their calorie intake.
History of Goulash:
Goulash has its roots in Hungary and has been a staple of Hungarian cuisine for centuries. Originally created as a meal for Hungarian herdsmen, it was a convenient and filling dish that could be cooked slowly over an open fire. Traditionally prepared in a cauldron known as a "bogrács," goulash was cooked using simple ingredients that were readily available in the countryside, such as beef, onions, and paprika.
Over time, goulash became a symbol of Hungarian culinary culture and gained international recognition. Today, it is enjoyed in various forms and adaptations, with each region in Hungary adding its own unique twist to the recipe.
Goulash Recipe
Goulash, the iconic Hungarian dish, is a rich and flavorful stew that has gained popularity worldwide.
Equipment
1 Large heavy bottomed pot

1 Stirring spoon
Ingredients
500g beef (preferably chuck or stewing beef), cut into cubes

2 tablespoons vegetable oil

2 large onions, finely chopped

2 garlic cloves, minced

2 tablespoons Hungarian sweet paprika

1 teaspoon caraway seeds

2 red bell peppers, diced

2 tomatoes, diced

2 medium potatoes, peeled and cubed

2 cups beef broth

Salt and pepper to taste

Sour cream (optional, for garnish)

Chopped fresh parsley (optional, for garnish)
Instructions
Heat the vegetable oil in a large, heavy-bottomed pot over medium heat. Add the onions and sauté until they become translucent and slightly caramelized.

Add the minced garlic and cook for another minute, stirring frequently. Push the onions and garlic to one side of the pot and add the beef cubes.

Brown the beef on all sides, allowing it to develop a rich color and flavor. Sprinkle the sweet paprika and caraway seeds over the beef, onions, and garlic.

Stir well to coat the ingredients evenly and let them cook for a minute or two. Add the diced bell peppers, tomatoes, and potatoes to the pot. Stir everything together until well combined.

Pour in the beef broth, ensuring that it covers all the ingredients. Bring the mixture to a boil, then reduce the heat to low and cover the pot with a lid.

Let it simmer for about 1.5 to 2 hours, or until the beef is tender and the flavors have melded together. Season the goulash with salt and pepper to taste. Adjust the seasoning according to your preference.

Serve the goulash hot, garnished with a dollop of sour cream and a sprinkle of fresh parsley. Accompany it with crusty bread or buttered noodles for a complete meal.
Video
Goulash, the hearty Hungarian stew, is a perfect comfort food that delights the taste buds and warms the soul. With its rich history and robust flavors, this traditional dish continues to capture the hearts of food enthusiasts around the world. Whether enjoyed on a chilly evening or as a centerpiece for a family gathering, goulash is a true culinary masterpiece that deserves a place on your table.
So, grab your apron, gather the ingredients, and immerse yourself in the flavors of Hungary with this authentic goulash recipe. Indulge in this culinary delight and experience the joy it brings to your taste buds!
YouTube Video Credits:
Food Wishes