Lemon Chiffon Pie Recipe
Hey there from the culinary wonderland! Today, we're diving into the sunshine-infused world of Lemon Chiffon Pie – a dessert that's as vibrant and zesty as your taste buds can handle. Get ready to whip up a slice of happiness that's equal parts delightful and delectable.
A Zesty Prelude: The History of Lemon Chiffon Pie
Lemon Chiffon Pie has a captivating history that traces back to the mid-20th century. This sweet sensation first graced our palates in the 1920s, thanks to the culinary genius of a talented baker who aimed to create a dessert that combined the lightness of a soufflé with the tanginess of fresh lemons. Fast forward to today, and Lemon Chiffon Pie continues to enchant dessert enthusiasts worldwide with its luscious texture and invigorating citrus punch.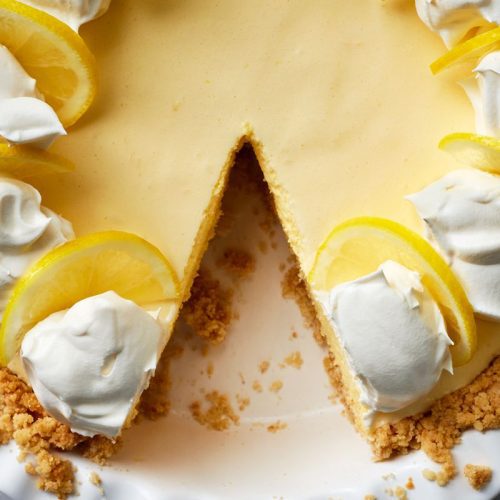 Lemon Chiffon Pie Recipe
Today, we're diving into the sunshine-infused world of Lemon Chiffon Pie – a dessert that's as vibrant and zesty as your taste buds can handle.
Ingredients
1 pre-made pie crust (store-bought or homemade

3 large eggs, separated

1 cup granulated sugar

1/4 cup fresh lemon juice (about 2-3 lemons)

1 tablespoon lemon zest

1 envelope unflavored gelatin

1/2 cup cold water

1/2 teaspoon salt

1/2 cup boiling water

1 cup whipped cream

Additional whipped cream and lemon zest for garnish (optional)
Instructions
Begin by separating the egg yolks and whites into two bowls.

In a saucepan, combine sugar, lemon juice, lemon zest, and egg yolks. Cook over medium heat, stirring constantly, until the mixture thickens. Remove from heat and dissolve the gelatin in cold water. Add this mixture to the lemon mixture and stir until well combined.

Gradually add the boiling water and salt to the lemon mixture, stirring until smooth.

Place the saucepan in a larger bowl filled with ice water. Stir the mixture until it starts to thicken and resemble the texture of unbeaten egg whites.

In a separate bowl, beat the egg whites until soft peaks form. Gently fold the egg whites into the lemon mixture until no white streaks remain.

Whip the cream until stiff peaks form, and then fold it into the lemon mixture as well.

Pour the luscious lemon chiffon filling into the prepared pie crust. Refrigerate for at least 4 hours, or until the pie is set and chilled.

When you're ready to indulge, garnish your pie with an extra dollop of whipped cream and a sprinkle of lemon zest.
Video
Whisking Up Similar Delights: More Citrusy Options
If you're looking to expand your citrus dessert repertoire, here are a few other tangy treats you might want to explore:
– Key Lime Pie: A close cousin of Lemon Chiffon Pie, this pie offers a tropical twist with its zesty key lime flavor and graham cracker crust.
– Orange Creamsicle Tart: Experience the nostalgia of an orange creamsicle in a delightful tart form, complete with a creamy citrus filling.
So, dear friends, channel your inner citrus sorcerer and create a Lemon Chiffon Pie that'll brighten up any day, whether it's a cozy evening at home or a lively gathering with loved ones. Don't hesitate to share your kitchen adventures with us – snap a pic of your pie masterpiece and tag us @allspiceblog.com. Let's keep the culinary magic alive, one slice at a time! 🍋✨
YouTube Video Credits:
WWLTV