Sugar-Free Cocoa Fudge Recipe
Hey there, food enthusiasts! Today, I've got a delightful treat in store for you – a sugar-free fudge recipe that's not only a healthier alternative but also incredibly delicious. Let's dive into the world of cocoa, creativity, and guilt-free indulgence.
A Brief History of Sugar-Free Fudge:
Fudge has a rich history dating back to the late 19th century, but the sugar-free version is a modern twist driven by the increasing demand for healthier dessert options. People have been experimenting with sugar substitutes to create a fudge that satisfies our sweet tooth without compromising our health.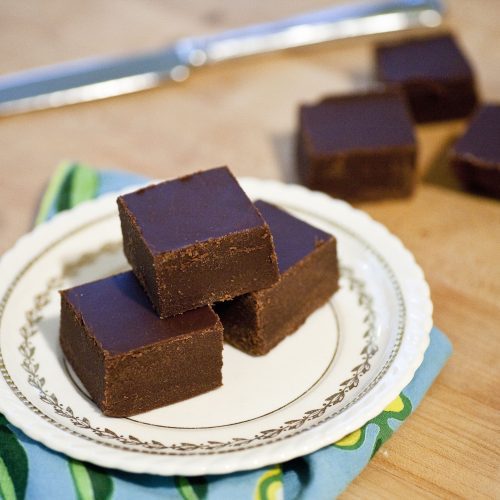 Sugar-Free Cocoa Fudge Recipe
Let's dive into the world of cocoa, creativity, and guilt-free indulgence - Sugar-Free Cocoa Fudge Recipe
Equipment
Microwave or stovetop

Mixing bowl

Whisk

8x8-inch square pan

Parchment paper
Ingredients
1 cup unsweetened cocoa powder

1/2 cup almond butter (or any nut butter of your choice)

1/4 cup coconut oil

1/4 cup sugar-free maple syrup

1 teaspoon vanilla extract

A pinch of salt

Optional: chopped nuts or dark chocolate chips for added texture
Instructions
Start by lining your square pan with parchment paper, leaving some overhang for easy removal later.

In a microwave-safe bowl or on the stovetop, gently melt the coconut oil and almond butter together until they form a smooth mixture. Stir in the sugar-free maple syrup, vanilla extract, and a pinch of salt.

Gradually add the unsweetened cocoa powder, whisking continuously to avoid lumps. This will result in a thick, glossy fudge mixture.

If you want to add some texture, fold in chopped nuts or dark chocolate chips at this stage.

Pour the mixture into the prepared square pan and spread it evenly. Use a spatula to smooth the top.

Place the pan in the refrigerator for at least 2 hours or until the fudge has set completely.

Once set, remove the fudge by lifting it out using the parchment paper overhang. Cut it into bite-sized squares.
Video
Similar Recipes
If you love this sugar-free cocoa fudge, you might also enjoy exploring other sugar-free dessert options like sugar-free chocolate truffles, almond butter cups, or avocado chocolate mousse.
Now that you have this scrumptious sugar-free cocoa fudge recipe in your arsenal, it's time to treat yourself and your loved ones to a guilt-free dessert experience. Get creative with your fudge toppings and share your delicious creations with us here. And remember, a healthy lifestyle doesn't mean compromising on flavor!
YouTube Video Credits:
Country Cooking