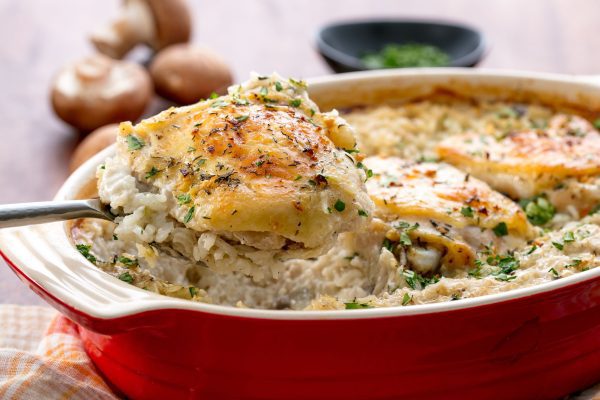 Chicken Rice Casserole Recipe
Welcome to our food blog, where we're excited to share with you a cheerful and delightful Chicken Rice Casserole Recipe. This heartwarming dish has a rich history and has been cherished by families for generations. Today, we'll guide you through the step-by-step process of preparing this comforting meal, including a list of ingredients, calories per serving, preparation and cooking time, and the essential equipment needed. So, let's dive in and create a mouthwatering casserole that will surely become a family favorite!
A Brief History of Chicken Rice Casserole:
The Chicken Rice Casserole has its roots in American cuisine and dates back to the early 20th century. Originally known as "Chicken and Rice Bake," this dish quickly gained popularity due to its simplicity and versatility. The casserole became a go-to recipe for busy households, as it allowed for easy customization with various vegetables and spices. Over the years, the Chicken Rice Casserole has evolved into a classic comfort food, bringing warmth and joy to countless dinner tables.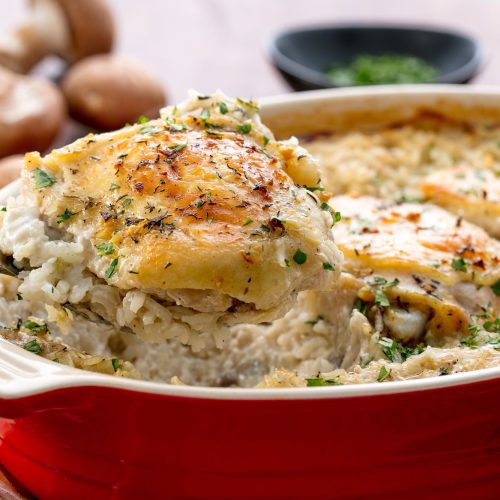 Delicious And Easy Chicken Rice Casserole
This heartwarming chicken rice casserole dish has a rich history and has been cherished by families for generations.
Equipment
Large oven-safe casserole dish

Large skillet or frying pan

Wooden spoon or spatula

Measuring cups and spoons

Aluminum foil
Ingredients
2 cups cooked and shredded chicken breast

1 cup uncooked long-grain white rice

1 ½ cups chicken broth

1 cup chopped carrots

1 cup frozen green peas

1 small onion, finely chopped

2 cloves garlic, minced

1 cup milk

2 tablespoons unsalted butter

2 tablespoons all-purpose flour

1 teaspoon dried thyme

1 teaspoon dried parsley

Salt and pepper to taste
Instructions
Preheat your oven to 375°F (190°C).

In a large skillet, melt the butter over medium heat. Add the chopped onion and garlic, sautéing until they become translucent and fragrant.

Stir in the flour, dried thyme, dried parsley, salt, and pepper. Cook for another minute to create a roux.

Gradually pour in the chicken broth and milk, stirring constantly to avoid lumps. Let the mixture simmer for about 2 minutes until it thickens.

Add the shredded chicken, chopped carrots, and frozen peas to the skillet, stirring until all ingredients are well combined.

In your casserole dish, spread the uncooked rice evenly on the bottom.

Pour the chicken and vegetable mixture over the rice layer in the casserole dish.

Cover the dish with aluminum foil and bake in the preheated oven for 30 minutes.

After 30 minutes, remove the foil and bake for an additional 10 minutes to let the top layer get a golden-brown color.

Once the casserole is cooked, remove it from the oven, and let it cool for a few minutes before serving.
Video
If you enjoy this Chicken Rice Casserole, you might also like these variations:
Cheesy Chicken and Broccoli Rice Casserole
Creamy Mushroom and Chicken Rice Casserole
Tex-Mex Chicken and Rice Casserole
There you have it, a heartwarming and delicious Chicken Rice Casserole that's easy to make and perfect for family dinners or gatherings. Try this recipe today and savor the comforting flavors that will make your taste buds dance with joy. Don't forget to explore our blog for more delightful recipes and helpful cooking tips. Happy cooking!
Note: The calorie count mentioned is an approximate value and may vary depending on the specific ingredients used. Always ensure proper food safety measures while handling raw chicken.
YouTube Video Credits:
Mr. Make It Happen