Chocolate Mud Cake Recipe
Indulge your taste buds with a delightful journey into the world of chocolate with this luscious and moist Chocolate Mud Cake recipe. This classic dessert has a rich history and is beloved by chocolate enthusiasts worldwide. Whether you're a baking beginner or a seasoned pro, this recipe promises to be easy to follow, resulting in a heavenly treat that will impress your friends and family.
A Brief History of Chocolate Mud Cake
The origin of Chocolate Mud Cake can be traced back to Australia. It was created by accident in the 1970s when a baker mistakenly added too much liquid to a chocolate cake recipe. The cake turned out dense and moist, resembling mud, hence the name "Mud Cake." The accidental discovery became a sensational hit, and its popularity soon spread globally.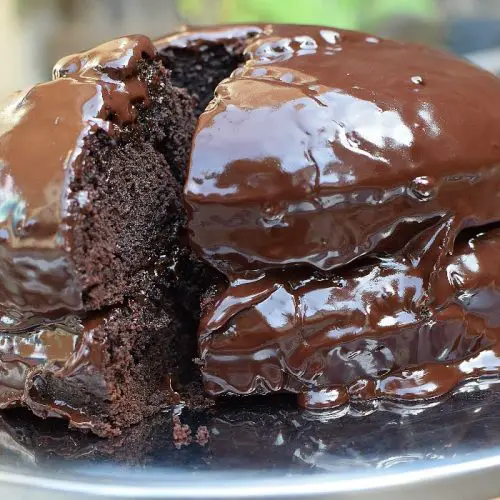 Chocolate Mud Cake Recipe
Indulge your taste buds with a delightful journey into the world of chocolate with this luscious and moist Chocolate Mud Cake recipe.
Equipment
9-inch round cake pan

Parchment paper

Mixing bowls

Whisk or electric mixer

Rubber spatula

Saucepan

Cooling rack
Ingredients
For the cake:
1 and 3/4 cups all-purpose flour

3/4 cup unsweetened cocoa powder

1 and 1/2 cups granulated sugar

1 teaspoon baking powder

1 teaspoon baking soda

1/2 teaspoon salt

2 large eggs, at room temperature

1 cup buttermilk, at room temperature

1/2 cup vegetable oil

2 teaspoons pure vanilla extract

1 cup hot water
For the ganache:
1 cup heavy cream

8 ounces semi-sweet chocolate chips
Instructions
Preheat your oven to 350°F (175°C). Grease a 9-inch round cake pan with butter or cooking spray. Line the bottom with parchment paper for easy removal.

In a large mixing bowl, whisk together the flour, cocoa powder, sugar, baking powder, baking soda, and salt until well combined.

Add the eggs, buttermilk, vegetable oil, and vanilla extract to the dry ingredients. Mix until the batter is smooth and no lumps remain.

Slowly pour in the hot water and stir until the batter becomes glossy and well incorporated.

Pour the batter into the prepared cake pan and smooth the top with a rubber spatula.

Bake the cake in the preheated oven for approximately 35-40 minutes or until a toothpick inserted into the center comes out with a few moist crumbs clinging to it.

While the cake is baking, prepare the ganache by heating the heavy cream in a saucepan over medium heat until it simmers. Remove from heat and add the chocolate chips. Stir until the chocolate is completely melted and the mixture is smooth.

Once the cake is done baking, let it cool in the pan for 10 minutes. Then, transfer it to a cooling rack to cool completely.

Pour the ganache over the cooled cake, allowing it to drizzle down the sides for a stunning finish.
Video
Similar Recipes
White Chocolate Mud Cake: Substitute the cocoa powder with white chocolate chips and follow the same instructions for a delectable alternative.
Raspberry Chocolate Mud Cake: Add fresh raspberries to the batter before baking to infuse the cake with a burst of fruity flavor.
Salted Caramel Mud Cake: Drizzle the cooled cake with homemade salted caramel sauce for an irresistible sweet and savory combo.
Now that you have this delightful Chocolate Mud Cake recipe in your repertoire, it's time to unleash your inner baker! Surprise your loved ones with this heavenly creation on special occasions, or treat yourself to a slice of pure indulgence. Happy baking!
Remember to share your baking adventures and tag us on social media for a chance to be featured. Happy baking!
YouTube Video Credits:
BakeLikeAPro