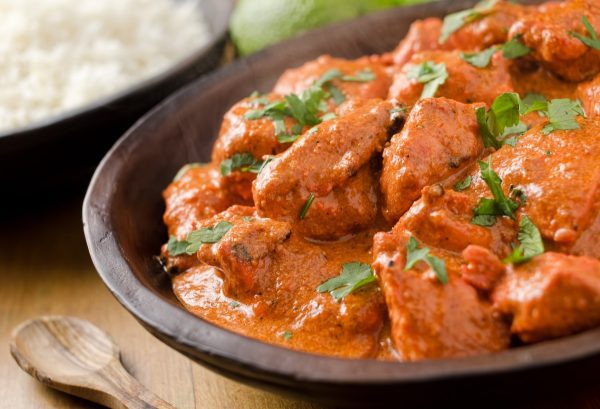 Butter Chicken Recipe
Butter chicken, also known as Murgh Makhani, is a popular Indian dish that has gained international recognition for its rich and flavorful taste. This delectable recipe combines succulent pieces of chicken in a velvety tomato-based sauce, infused with aromatic spices and finished with a touch of creamy butter.
In this article, we will explore the history of butter chicken, provide you with a step-by-step guide to prepare this dish, list the required ingredients, discuss its nutritional value, and estimate the preparation and cooking time. So, let's embark on this culinary journey to create a lip-smacking butter chicken at home!
A Brief History:
Butter chicken is said to have originated in the early 1950s in the famous Moti Mahal restaurant in Delhi, India. It was created by the restaurant's founders, Kundan Lal Jaggi and Kundan Lal Gujral.
The story goes that they innovatively repurposed leftover tandoori chicken by simmering it in a tomato-based gravy, enriched with butter and cream. This accidental creation became an instant hit and has since become an integral part of Indian cuisine, enjoyed by people worldwide.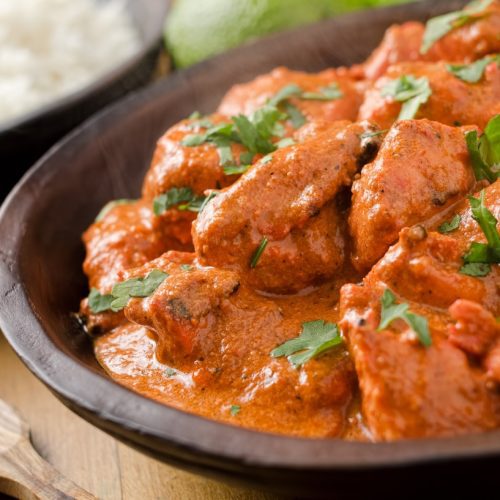 Butter Chicken Recipe
Butter chicken, also known as Murgh Makhani, is a popular Indian dish that has gained international recognition for its rich and flavorful taste.
Equipment
Mixing bowl

Skillet or frying pan

Blender or food processor

Wooden spoon or spatula

Serving dish
Ingredients
For the marinade:
500 grams boneless chicken, cut into bite-sized pieces

1 cup plain yogurt

2 tablespoons lemon juice

2 teaspoons ginger paste

2 teaspoons garlic paste

1 teaspoon red chili powder

1 teaspoon turmeric powder

Salt, to taste
For the sauce:
4 tablespoons butter

1 large onion, finely chopped

2 teaspoons ginger paste

2 teaspoons garlic paste

2 teaspoons garam masala

1 teaspoon cumin powder

1 teaspoon coriander powder

1 teaspoon paprika

1 cup tomato puree

1 cup heavy cream

1 teaspoon sugar (optional)

Salt, to taste

Fresh coriander leaves, for garnish
Instructions
In a mixing bowl, combine the yogurt, lemon juice, ginger paste, garlic paste, red chili powder, turmeric powder, and salt to prepare the marinade.

Add the chicken pieces to the marinade and coat them well. Allow the chicken to marinate for at least 1 hour or overnight in the refrigerator for enhanced flavor.

In a skillet or frying pan, melt the butter over medium heat. Add the finely chopped onions and sauté until they turn golden brown.

Add the ginger paste and garlic paste to the skillet and cook for a minute until the raw aroma dissipates.

Sprinkle the garam masala, cumin powder, coriander powder, and paprika into the skillet. Stir well to combine the spices with the onion mixture.

Pour in the tomato puree and cook for 2-3 minutes, allowing the flavors to meld together.

Reduce the heat to low and slowly add the marinated chicken pieces to the skillet, discarding any excess marinade.

Stir well to coat the chicken with the sauce. Cover the skillet and simmer for about 15-20 minutes or until the chicken is cooked through and tender.

Pour in the heavy cream and sugar (if desired) and simmer for an additional 2-3 minutes, stirring gently.

Adjust the salt and spices according to your taste preferences. If the sauce is too thick, you can add a splash of water to achieve the desired consistency. Garnish with freshly chopped coriander leaves.
Video
Similar Recipes:
Paneer Butter Masala: A vegetarian twist to the butter chicken, this recipe uses cubes of paneer (Indian cottage cheese) instead of chicken. The rest of the preparation remains similar, creating a creamy and flavorsome delight for vegetarians.
Tofu Butter Masala: A vegan alternative to traditional butter chicken, this recipe replaces chicken with tofu and uses plant-based ingredients to achieve a rich and creamy texture. It is a delightful option for those following a plant-based lifestyle.
Now that you have the secrets to preparing a delightful butter chicken, don your apron and start cooking! Treat your family and friends to this aromatic Indian dish that is sure to leave them craving more. Experiment with the spice levels and ingredients to suit your taste buds. Whether you're a seasoned cook or a beginner, this butter chicken recipe is bound to impress. Enjoy the flavors of India in the comfort of your own kitchen!
Remember, culinary adventures are best enjoyed when shared. So, gather your loved ones, savor this delightful meal, and create cherished memories together!
(Note: The nutritional information provided is an estimate and may vary based on specific ingredients and portion sizes.)
For more mouthwatering recipes and culinary inspiration, explore our food blog and discover a world of gastronomic delights. Don't forget to share your cooking experiences and favorite recipes in the comments section below. Happy cooking!
YouTube Video Credits:
Get Curried