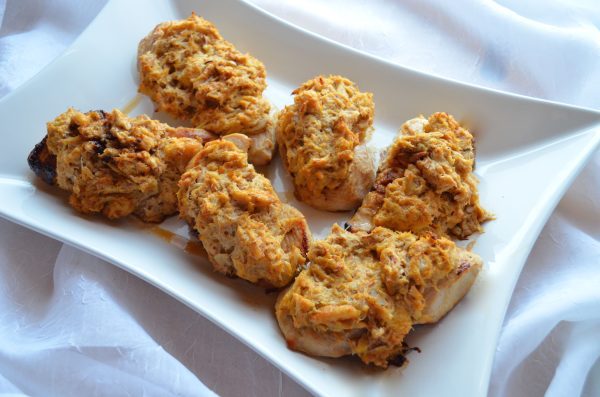 Chicken Chesapeake Recipe
Introduction and Brief History:
Chicken Chesapeake is a mouthwatering dish that originates from the coastal regions of Maryland, USA. Inspired by the Chesapeake Bay's abundant seafood, this recipe combines succulent chicken with a luscious crabmeat and creamy sauce, creating a delightful surf-and-turf fusion. With its rich flavors and creamy texture, Chicken Chesapeake has become a beloved classic, perfect for impressing guests or enjoying it as a special treat at home.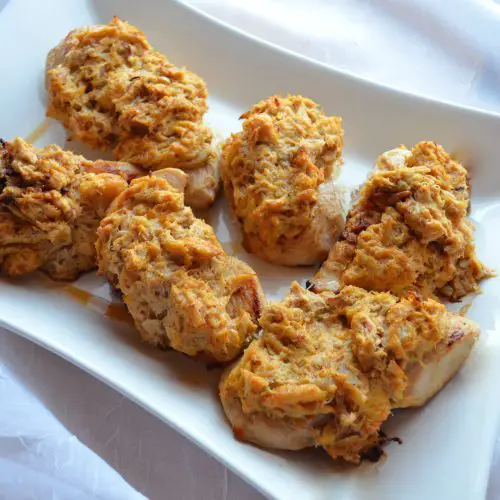 Chicken Chesapeake Recipe
Chicken Chesapeake is a mouthwatering dish that originates from the coastal regions of Maryland, USA.
Equipment
Oven

Baking dish

Mixing bowl

Spoon

Kitchen brush

Aluminum foil (optional)
Ingredients
For the Chicken:
4 boneless, skinless chicken breasts

1 tablespoon olive oil

1 teaspoon paprika

Salt and pepper to taste
For the Chesapeake Topping:
1 cup lump crabmeat (picked free of shells)

1/4 cup mayonnaise

1/4 cup breadcrumbs

1 tablespoon chopped fresh parsley

1 teaspoon Dijon mustard

1/2 teaspoon Old Bay seasoning (or any seafood seasoning)

1/2 teaspoon garlic powder

1/4 teaspoon cayenne pepper (optional

Salt and pepper to taste
Instructions
Step 1:
Prepare the Chicken:

Preheat your oven to 400°F (200°C). Place the boneless, skinless chicken breasts on a clean cutting board. Brush each chicken breast with olive oil and season with paprika, salt, and pepper on both sides. Place the seasoned chicken breasts in a baking dish and set aside.
Step 2:
Make the Chesapeake Topping:

In a mixing bowl, combine lump crabmeat, mayonnaise, breadcrumbs, chopped parsley, Dijon mustard, Old Bay seasoning, garlic powder, cayenne pepper (if using), salt, and pepper.Gently fold the ingredients together until well mixed.
Step 3:
Assemble the Dish:

Spoon the Chesapeake topping mixture evenly over each chicken breast.You can cover the baking dish with aluminum foil to prevent excessive browning, though this is optional.
Step 4:
Bake the Chicken;

Place the baking dish with the chicken and topping in the preheated oven.Bake for approximately 20-25 minutes or until the chicken is cooked through, and the topping becomes golden and slightly bubbly.
Step 5:
Serve and Enjoy!:

Once done, remove the Chicken Chesapeake from the oven.Serve the delicious Chicken Chesapeake with your favorite sides, such as roasted vegetables, rice, or a fresh garden salad.Indulge in the delightful blend of flavors and textures, savoring each bite!
Video
Similar Recipes:
If you enjoy Chicken Chesapeake, you might also like these delicious seafood-infused dishes:
Crab-Stuffed Shrimp: Succulent shrimp filled with delectable crabmeat stuffing, perfect for an elegant seafood dinner.
Scallop and Bacon Skewers: Combine the sweetness of scallops with the smoky flavor of bacon, grilled to perfection for a delightful appetizer or main course.
Incorporate a taste of the coast into your culinary adventures by trying this scrumptious Chicken Chesapeake recipe. Whether you're hosting a dinner party or craving a special treat, this dish will impress and satisfy you. Enjoy the harmonious marriage of chicken and crabmeat, brought together in a creamy, flavorsome topping. So, gather your ingredients, follow the simple steps, and dive into a delightful culinary journey with Chicken Chesapeake! Your taste buds will thank you for it. Bon appétit!
YouTube Video Credits:
Smoky Ribs BBQ