Corned Venison Recipe
Welcome to the world of tantalizing flavors and rich history with our corned venison recipe. In this article, we'll delve into the origins of this delectable dish, walk you through the step-by-step preparation, provide a list of essential ingredients, detail the nutritional aspects, and even suggest some similar recipes for your culinary exploration. Let's embark on this mouthwatering journey.
The History of Corned Venison:
Corned venison is a dish deeply rooted in Irish tradition. It is a flavorful spin on the classic corned beef, a staple of St. Patrick's Day celebrations. While corned beef is the more common choice, venison, with its lean and tender meat, offers a unique and delightful twist.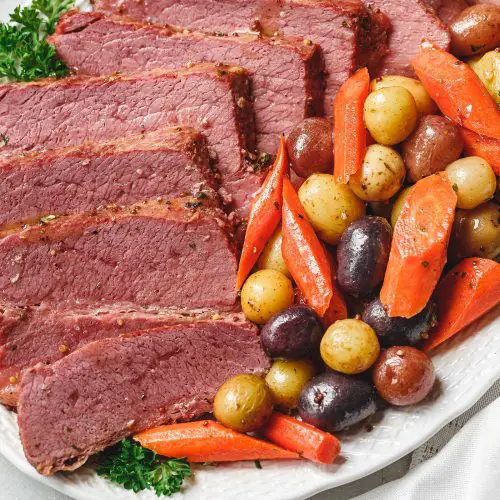 Corned Venison Recipe
Welcome to the world of tantalizing flavors and rich history with our corned venison recipe.
Equipment
Large pot

Knife

Cutting board
Ingredients
2 pounds of venison roast

1 cup kosher salt

1/2 cup brown sugar

2 teaspoons pink curing salt (sodium nitrite)

1 tablespoon pickling spice

4 cloves of garlic, minced

2 bay leaves

10 cups of water

8 small red potatoes

4 large carrots

1 small cabbage
Instructions
Begin the Brining Process: In a large pot, combine the kosher salt, brown sugar, pink curing salt, pickling spice, garlic, bay leaves, and water. Stir until the salt and sugar dissolve. This mixture forms your brine.

Brine the Venison: Submerge the venison roast in the brine and refrigerate for 5-7 days. Turn it daily to ensure even curing.

Cook the Venison: After brining, rinse the venison roast thoroughly. Place it in a large pot, cover with water, and bring to a boil. Reduce the heat and simmer for 3-4 hours until the meat is tender.

Add Vegetables: About 30 minutes before the venison is done, add the potatoes, carrots, and cabbage to the pot. They will soak up the savory flavors of the meat.

Serve and Enjoy: Once the venison is fork-tender and the vegetables are cooked, remove them from the pot, slice the meat, and serve. Don't forget the mustard or horseradish for an extra kick!
Video
Similar Recipes:
If you enjoy corned venison, you might also like to explore other traditional Irish recipes such as "Irish Lamb Stew" or "Boxty Pancakes."
Now that you've uncovered the secrets of corned venison, it's time to try it for yourself. Gather the ingredients, follow our step-by-step guide, and savor the rich, savory flavors of this Irish classic. Don't forget to share your experience with us in the comments below and explore more of our mouthwatering recipes here.
YouTube Video Credits:
Andrew Zimmern