Slow Cooker Brunswick Stew Recipe
If you're a fan of hearty, comforting dishes with a touch of Southern charm, you're in for a treat! Today, we're diving into the rich history and delicious flavors of Brunswick stew. Originating from the southeastern United States, this stew has been warming hearts and satisfying taste buds for generations.
A Brief History of Brunswick Stew:
Brunswick stew's exact origin is a topic of debate, with Virginia and Georgia, both claiming it as their own. However, this delightful dish can be traced back to the early 1800s, when it was prepared as a communal meal for gatherings and celebrations.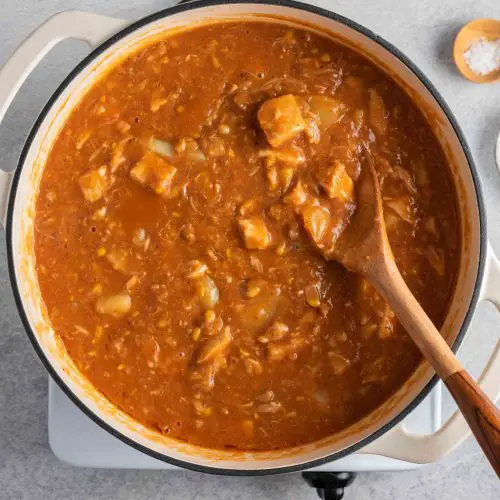 Slow Cooker Brunswick Stew Recipe
Today, we're diving into the rich history and delicious flavors of Brunswick stew.
Equipment
A slow cooker

Cutting board

Knife

Can opener

Measuring cups and spoons
Ingredients
1 pound of boneless chicken thighs

1 pound of pulled pork (you can use leftover barbecue pork)

1 onion, chopped

2 cloves of garlic, minced

2 cups of diced potatoes

1 cup of lima beans

1 cup of corn kernels

1 cup of diced tomatoes

4 cups of chicken broth

1/2 cup of ketchup

1/4 cup of barbecue sauce

2 tablespoons of Worcestershire sauce

1 teaspoon of paprika

Salt and pepper to taste

Hot sauce (optional, for extra heat)
Instructions
Start by placing the chicken thighs, pulled pork, chopped onion, and minced garlic into your slow cooker.

Add the diced potatoes, lima beans, corn kernels, and diced tomatoes.

In a separate bowl, mix the chicken broth, ketchup, barbecue sauce, Worcestershire sauce, paprika, salt, and pepper. Pour this mixture over the ingredients in the slow cooker.

If you like a bit of heat, you can also add hot sauce to taste.

Stir everything together in the slow cooker until well combined.

Set your slow cooker on low and let the stew simmer for 6-8 hours. The long, slow cooking process allows the flavors to meld beautifully.
Video
Similar Recipes
If you enjoy Brunswick stew, you might also like other Southern classics, such as gumbo, jambalaya, or chili. These dishes share the same warmth and complexity of flavors that make Southern cuisine so beloved.
Conclusion:
In conclusion, this slow-cooker Brunswick stew is the epitome of Southern comfort food. Whether you're hosting a gathering or simply craving a heartwarming meal, this dish is sure to satisfy. The history, the flavors, and the simplicity of preparation make it a must-try recipe.
YouTube Video Credits:
Weekend Warrior BBQ