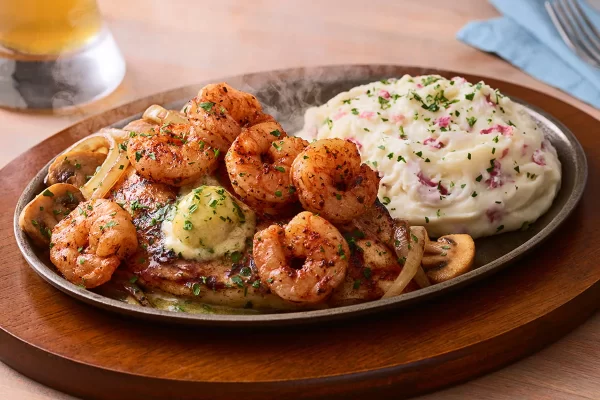 Applebee's Bourbon Street Chicken Recipe
When it comes to tantalizing taste buds with mouthwatering flavors, few recipes can match the deliciousness of Applebee's Bourbon Street Chicken. This iconic dish is a fusion of sweet and savory, inspired by the vibrant streets of New Orleans. Whether you're a seasoned cook or a kitchen novice, this easy-to-follow recipe will help you recreate the magic of Applebee's right in your home.
History of Bourbon Street Chicken:
The roots of Bourbon Street Chicken can be traced back to the bustling streets of New Orleans, Louisiana. Drawing inspiration from the rich Cajun and Creole culinary traditions, the dish boasts a perfect balance of sweet and tangy flavors. Over the years, it has become a beloved favorite at Applebee's restaurants, capturing the hearts and palates of diners across the nation.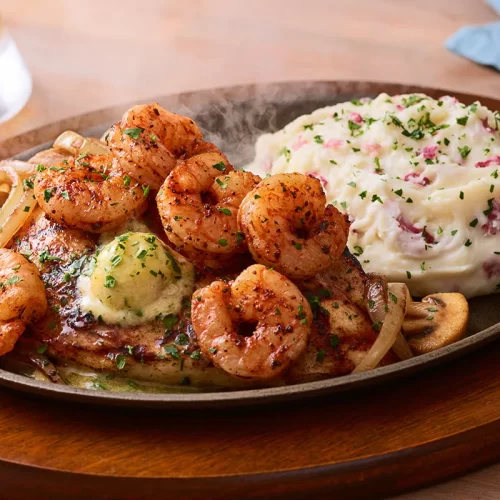 Applebee's Bourbon Street Chicken Recipe
Equipment
Skillet or frying pan

Tongs

Measuring cups and spoons

Cutting board and knife

Whisk
Ingredients
4 boneless, skinless chicken breasts

1/4 cup soy sauce

1/4 cup brown sugar

2 tablespoons bourbon (or substitute with apple juice)

1 tablespoon honey

1 tablespoon Dijon mustard

2 cloves garlic, minced

1/2 teaspoon ground ginger

1/4 teaspoon red pepper flakes (adjust to taste)

2 tablespoons vegetable oil

1 green bell pepper, thinly sliced

1 red bell pepper, thinly sliced

1 yellow onion, thinly sliced

2 green onions, chopped (for garnish)

Cooked white rice (to serve)
Instructions
Marinate the Chicken:

In a bowl, combine soy sauce, brown sugar, bourbon, honey, Dijon mustard, minced garlic, ground ginger, and red pepper flakes. Whisk until the marinade is well mixed.Place the chicken breasts in a resealable plastic bag or a shallow dish and pour the marinade over them.Seal the bag or cover the dish and marinate in the refrigerator for at least 30 minutes (or overnight for maximum flavor).

Cook the Chicken:

Heat vegetable oil in a skillet over medium-high heat.Remove the marinated chicken from the refrigerator and discard the marinade.Add the chicken breasts to the hot skillet and cook for about 5-6 minutes per side, or until they reach an internal temperature of 165°F (75°C). Use a meat thermometer to check doneness.Once cooked, transfer the chicken to a plate and set it aside.

Sauté the Vegetables:

In the same skillet, add the thinly sliced green and red bell peppers, and the yellow onion.Sauté the vegetables for about 3-4 minutes, or until they become tender-crisp.

Make the Glaze:

In a small bowl, mix 1 tablespoon of cornstarch with 1 tablespoon of water to make a slurry.Add the slurry to the skillet, along with any remaining marinade.Stir the mixture and let it simmer for 1-2 minutes until the sauce thickens and coats the vegetables.

Combine and Serve:

Return the cooked chicken to the skillet and coat it with the glaze and vegetables.Sprinkle chopped green onions on top for a burst of freshness.Serve the Bourbon Street Chicken over cooked white rice.
Video
Similar Recipes:
If you loved the Applebee's Bourbon Street Chicken, you might enjoy these similar recipes with a Cajun twist:
Cajun Shrimp and Grits
Jambalaya
Cajun Blackened Fish Tacos
With this easy-to-follow recipe, you can bring the flavors of New Orleans and the charm of Applebee's right to your dinner table. The Applebee's Bourbon Street Chicken is a delightful combination of sweet, tangy, and savory notes, creating a memorable meal for your family and friends to enjoy. So, don your apron and get ready to experience a taste sensation like no other!
If you're craving more delicious recipes and culinary adventures, join our food-loving community! Subscribe to our newsletter and stay updated with the latest mouthwatering dishes, cooking tips, and restaurant-style recipes you can recreate in your kitchen. Let's embark on a culinary journey together! Happy cooking!
YouTube Video Credits:
ThatGirlCanCook