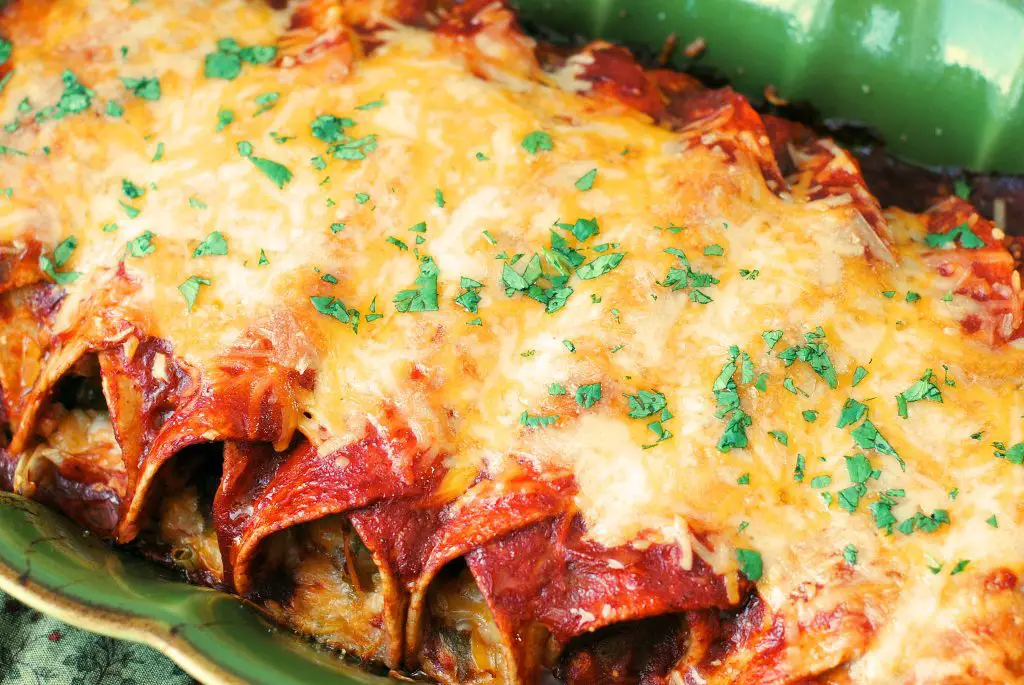 Cheese Enchiladas Recipe
Hey there, foodie. We're bringing you a scrumptious adventure into the world of cheese enchiladas! These cheesy delights have a rich history and hail from the heart of Mexican cuisine. In this article, we'll delve into their origins, provide a step-by-step recipe, list essential ingredients, reveal the calorie count, and share cooking times. Plus, we've got some similar recipes to satisfy your culinary cravings. Let's get started!
The History of Cheese Enchiladas: A Taste of Mexico
Cheese enchiladas are a beloved dish in Mexican and Tex-Mex cuisine. With roots tracing back to the ancient Aztecs and Mayans, this recipe has evolved over centuries to become the cheesy sensation we know today. Enchiladas, meaning "in chili sauce," have been a staple of Mexican food culture for generations.
Cheese Enchiladas Recipe
These cheesy delights have a rich history and hail from the heart of Mexican cuisine.
Equipment
Baking dish

Frying pan

Mixing bowls

Cooking spray
Ingredients
12 corn tortillas

2 cups of shredded cheese (cheddar, Monterey Jack, or a mix)

2 cups of enchilada sauce

1 small onion, finely chopped

2 cloves of garlic, minced

1 teaspoon ground cumin

1 teaspoon chili powder

Salt and pepper to taste

2 tablespoons vegetable oil

Optional toppings: sour cream, chopped fresh cilantro, and diced tomatoes
Instructions
Preheat your oven to 375°F (190°C). Grease a baking dish with cooking spray.

In a frying pan, heat the vegetable oil over medium heat. Sauté the chopped onions and minced garlic until they become translucent.

Add the ground cumin and chili powder to the pan, stirring for about one minute. This will release the spices' flavors.

Take your corn tortillas and lightly warm them in the microwave or on a griddle to make them pliable.

To assemble each enchilada, spoon a portion of the sautéed onion and garlic mixture onto a tortilla, followed by a generous handful of shredded cheese.

Roll the tortilla and place it seam-side down in the greased baking dish.

Pour the enchilada sauce evenly over the rolled tortillas, and sprinkle any remaining cheese on top.

Bake for approximately 20-25 minutes, or until the cheese is bubbling and enchiladas are heated through.

Once out of the oven, garnish your cheese enchiladas with your choice of toppings, such as sour cream, cilantro, and diced tomatoes.
Video
Similar Recipes:
If you're a fan of cheese enchiladas, you might enjoy trying variations like chicken enchiladas, beef enchiladas, or vegetarian enchiladas. These options offer a twist on the classic recipe while still delivering the same delicious flavors.
Conclusion:
Now you're armed with the knowledge to create cheesy, savory cheese enchiladas right in your own kitchen. Embrace the tradition and history behind this dish while savoring every bite. So, what are you waiting for? Get cooking and treat yourself to the authentic taste of Mexico.
YouTube Video Credits:
Rachel cooks with love