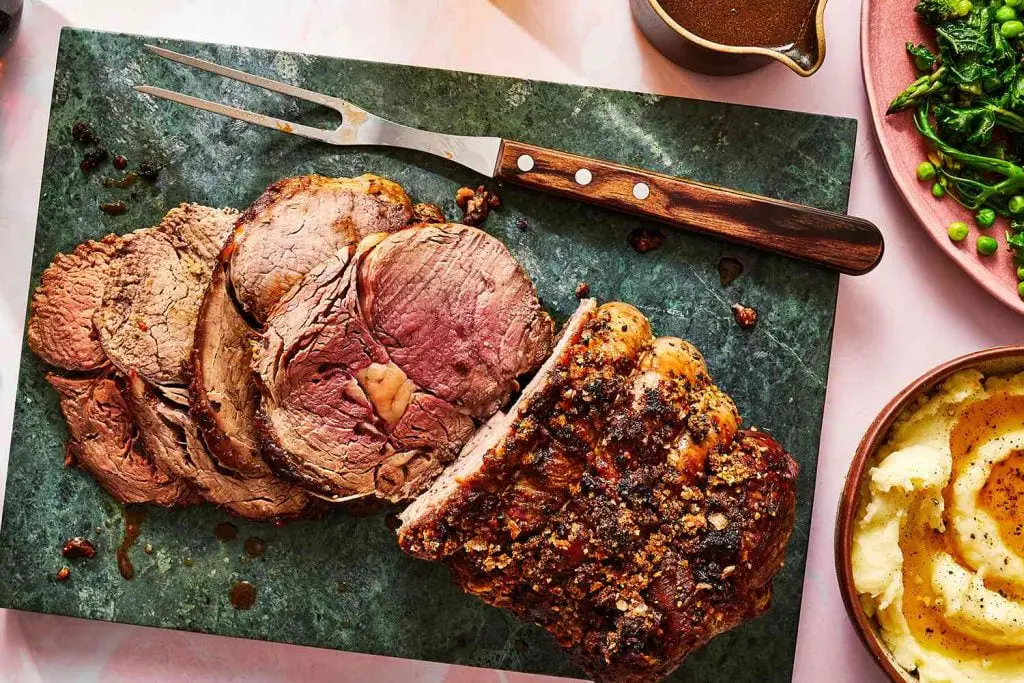 Rib Eye Roast Recipe
Welcome to the world of culinary delight! In this article, we will explore the tantalizing journey of the rib eye roast, a delectable dish that has been cherished across the globe. We'll dive into the history of this classic recipe, list the ingredients you'll need, provide step-by-step instructions, share its nutritional information, and even suggest some similar recipes to keep your taste buds dancing. So, let's embark on this flavorful adventure together.
A Brief History of Rib Eye Roast:
The rib eye roast, also known as the "prime rib," is a dish that can be traced back to England, where it was once the centerpiece of grand feasts in the 18th century. However, it gained immense popularity in the United States during the 20th century and has since become a cherished part of American cuisine. Its succulent, well-marbled meat and rich flavor make it a favorite for special occasions and holiday gatherings.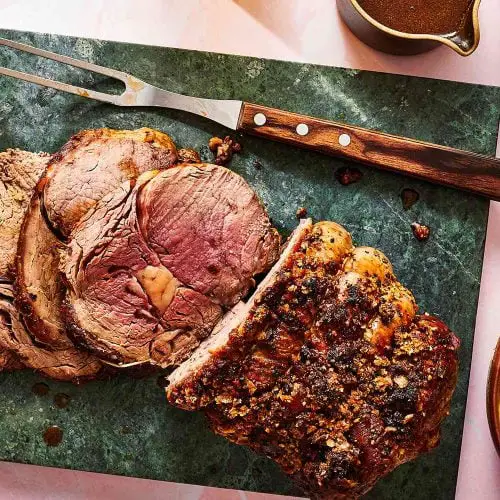 Rib Eye Roast Recipe
In this article, we will explore the tantalizing journey of the rib eye roast, a delectable dish that has been cherished across the globe.
Equipment
A roasting pan with a rack

Meat thermometer

Aluminum foil
Ingredients
1 bone-in rib eye roast (approximately 4-5 pounds)

2 tablespoons of olive oil

4 cloves of garlic, minced

2 tablespoons of fresh rosemary, finely chopped

2 tablespoons of fresh thyme, finely chopped

Salt and pepper to taste
Instructions
Preheat your oven to 450°F (232°C)

Prepare the roast by removing it from the refrigerator and letting it sit at room temperature for about 2 hours. This allows for even cooking.

Season the roast generously with salt and pepper.

In a small bowl, combine minced garlic, chopped rosemary, chopped thyme, and olive oil. Rub this mixture all over the roast, ensuring it's well-coated.

Place the roast on a roasting pan with a rack and put it in the preheated oven.

After 15 minutes, reduce the oven temperature to 350°F (177°C). Continue roasting until the meat thermometer reads your desired doneness (see the cooking time estimates above).

Once done, remove the roast from the oven and tent it with aluminum foil. Let it rest for about 15-20 minutes. This step is crucial for the juices to redistribute throughout the meat, ensuring a juicy and tender roast.

Slice and serve your rib eye roast to the delight of your guests.
Video
Notes
Cooking Time:
Cooking a perfect rib eye roast depends on your preferred doneness. Here's a rough estimate:
Rare: 20-25 minutes per pound
Medium-Rare: 25-30 minutes per pound
Medium: 30-35 minutes per pound
Keep in mind that these are just guidelines, and using a meat thermometer is recommended to achieve the desired level of doneness.
Similar Recipes:
If you're looking to expand your culinary repertoire, here are some similar recipes you might enjoy:
– Garlic and Herb-Crusted Prime Rib: A flavorful variation that's sure to impress.
– Red Wine-Braised Beef: For those who enjoy a richer, wine-infused taste.
– Mustard and Herb-Crusted Pork Roast: A delightful alternative for pork lovers.
In conclusion, the rib eye roast is a timeless classic that continues to win hearts at gatherings and special occasions. With a rich history and simple preparation, it's a dish that combines tradition with flavor. So, whether you're a seasoned chef or a kitchen novice, give this recipe a try and relish the joy of creating a mouthwatering rib eye roast that will leave your guests craving for more.
YouTube Video Credits:
Stephanie Manley