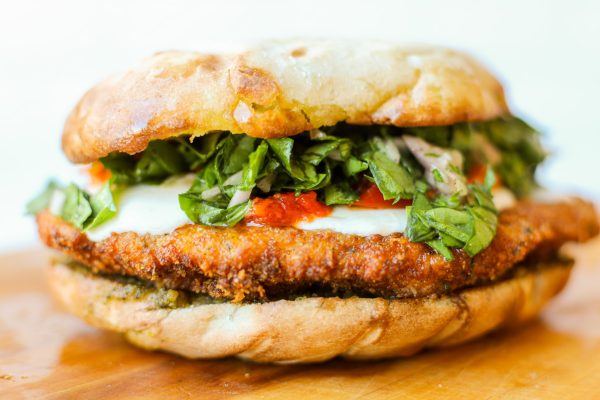 Chicken Sandwich Recipe
Chicken sandwiches have become an all-time favorite, satisfying our cravings with their tender, juicy chicken and flavorful toppings. Whether you're looking for a quick lunch or a hearty dinner option, this homemade chicken sandwich recipe is the perfect choice.
In this article, we'll take you through a brief history of the recipe, list out the ingredients and equipment needed, provide step-by-step instructions, and even give you the nutritional information. Get ready to enjoy a mouthwatering chicken sandwich like never before!
A Brief History of the Chicken Sandwich:
The chicken sandwich has a long and interesting history. It is believed to have originated in the United States, with the credit for its popularity often given to the fast-food chain, Chick-fil-A.
However, the concept of using bread to sandwich a piece of chicken can be traced back even further to ancient times, with variations found in different cultures around the world. Today, the chicken sandwich has evolved to include a wide variety of flavors and toppings, making it a versatile and beloved dish for many.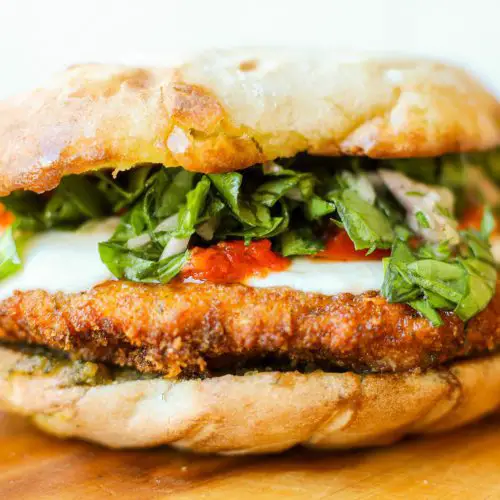 Chicken Sandwich Recipe
Chicken sandwiches have become an all-time favorite, satisfying our cravings with their tender, juicy chicken and flavorful toppings.
Equipment
Cutting board

Knife

Mixing bowls

Whisk

Frying pan

Tongs

Paper towelsOven (optional)
Ingredients
4 boneless, skinless chicken breasts

4 burger buns (preferably brioche or sesame seed)

4 lettuce leaves

4 tomato slices

4 slices of cheese (cheddar, Swiss, or your favorite)

1 cup all-purpose flour

1 teaspoon paprika

1 teaspoon garlic powder

1 teaspoon onion powder

1 teaspoon salt

1/2 teaspoon black pepper

2 large eggs

Vegetable oil (for frying)

Condiments of your choice (mayonnaise, ketchup, mustard, etc.)
Instructions
Prepare the Chicken:

Place the chicken breasts on a cutting board and pat them dry with paper towels.Using a sharp knife, slice each chicken breast horizontally to create two thinner cutlets.Season the chicken cutlets with salt and pepper on both sides.

Set Up the Breading Station:

In a shallow bowl, combine the all-purpose flour, paprika, garlic powder, onion powder, salt, and black pepper.In a separate bowl, whisk the eggs until well beaten.

Bread the Chicken:

Dip each chicken cutlet into the flour mixture, ensuring both sides are evenly coated.Shake off any excess flour, then dip the cutlet into the beaten eggs, coating it thoroughly. Place the chicken back into the flour mixture, pressing gently to help the coating adhere. Repeat the process for each chicken cutlet.

Fry the Chicken:

Heat vegetable oil in a frying pan over medium heat.Carefully place the breaded chicken cutlets into the hot oil.Fry for about 4-5 minutes per side, or until golden brown and cooked through.Once cooked, transfer the chicken cutlets to a paper towel-lined plate to drain excess oil.

Assemble the Sandwich:

Toast the burger buns if desired.Spread your choice of condiments on the bottom half of each bun.Place a lettuce leaf on top of the condiments.Put a fried chicken cutlet on the lettuce leaf.Top the chicken with a tomato slice and a slice of cheese.Cover with the top half of the bun.

Serve and Enjoy:

Your delicious homemade chicken sandwiches are now ready to be served!Pair them with your favorite sides like fries, coleslaw, or a fresh salad.Enjoy the crispy chicken, the burst of flavors, and the satisfying texture of this classic favorite.
Video
Now that you have all the information and steps to create a mouthwatering chicken sandwich, it's time to roll up your sleeves and get cooking! Gather the ingredients, follow the instructions, and savor the flavors of this homemade delight. Don't forget to experiment with different condiments and toppings to personalize your chicken sandwich experience. Get ready to impress your taste buds and those of your loved ones with this irresistible treat!
Remember, the joy of cooking lies in exploring new recipes and sharing them with others. So go ahead, embrace your inner chef, and create a memorable dining experience with your very own homemade chicken sandwiches. Happy cooking and bon appétit!
YouTube Video Credits:
Natashas Kitchen