Coconut Custard Pie Recipe
Hey there, fellow food enthusiasts! Today, I've got a treat that will transport your taste buds to a tropical paradise – the delectable Coconut Custard Pie. Whether you're a seasoned baker or just starting out, this recipe is bound to be a hit. Let's dive into the sweet journey of creating this creamy delight that will have your friends and family asking for seconds.
A Brief History of Coconut Custard Pie:
Coconut Custard Pie has a rich history rooted in Southern cuisine. Its origins can be traced back to early American settlers who combined their love for custard-style desserts with the exotic flavor of coconuts. Over the years, this dessert has become a beloved classic, capturing the essence of comfort and nostalgia.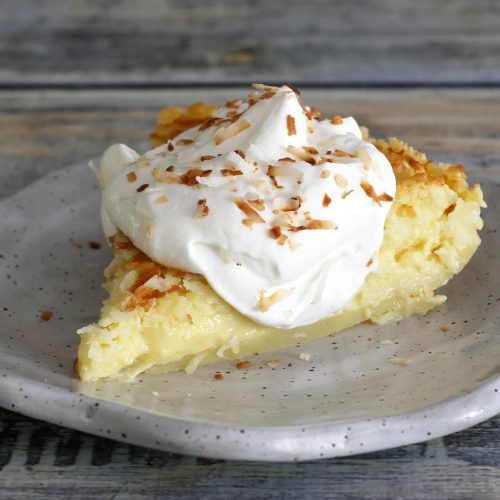 Coconut Custard Pie Recipe
Today, I've got a treat that will transport your taste buds to a tropical paradise – the delectable Coconut Custard Pie.
Equipment
Pie dish

Mixing bowls

Whisk

Measuring cups and spoons

Oven
Ingredients
1 pre-made pie crust (store-bought or homemade

1 cup shredded coconut (sweetened)

3 large eggs

1 cup granulated sugar

1/4 cup unsalted butter (melted)

1 teaspoon vanilla extract

1/4 teaspoon salt

1 3/4 cups whole milk

Whipped cream (for topping, optional)
Instructions
Preheat your oven to 350°F (175°C).

Roll out the pre-made pie crust and fit it into a pie dish. Trim any excess crust hanging over the edges.

In a mixing bowl, whisk together eggs, sugar, melted butter, vanilla extract, and salt until well combined.

Gradually add the shredded coconut and whole milk to the egg mixture, stirring gently until everything is evenly incorporated.

Carefully pour the custard mixture into the prepared pie crust.

Place the pie dish on a baking sheet to catch any potential spills. This step is a lifesaver!

Bake in the preheated oven for 45-50 minutes or until the custard is set and the top is golden brown.

Once baked, remove the pie from the oven and let it cool completely before slicing.

Top slices with a dollop of whipped cream if desired. Dive in and savor the tropical goodness!
Video
Quick Tip: To achieve the best results, make sure not to rush the cooling process. Allowing the pie to cool completely ensures a perfect, silky texture.
Similar Recipes to Explore:
– Mango Coconut Custard Tart: Infuse a burst of mango flavor into the custard for a refreshing twist.
– Chocolate Coconut Custard Pie: Indulge your cocoa cravings by adding a touch of chocolate to the custard mixture.
From start to finish, this Coconut Custard Pie recipe takes about 15 minutes to prepare and around 50 minutes to bake. The result? A pie that's worth every second of anticipation. As you dive into this culinary journey, remember that baking is an art, and each pie is a canvas of flavor waiting to be explored. So gather your ingredients, put on your apron, and let your creativity flow. Your taste buds and those lucky enough to share in your creation will thank you!
Now, it's your turn. Whip up this Coconut Custard Pie, share it with your loved ones, and watch their faces light up with delight. Don't forget to snap a picture of your masterpiece and share it with us. Ready to embark on a culinary adventure? Grab your apron and whisk, and let's create a Coconut Custard Pie that'll make your taste buds dance! If you're craving more scrumptious recipes and culinary inspiration, hop over, where creativity and flavors collide. Together, let's celebrate the art of food and share the joy of cooking with the world. Happy baking, foodies!
YouTube Video Credits:
Tess Cooks 4u