Greek Easter Bread Recipe
Hey foodie, here's a delightful Greek Easter Bread recipe that's bound to impress your family and friends during the Easter holiday season. When it comes to Easter, there's nothing quite like the aroma of freshly baked Greek Easter bread, also known as Tsoureki. This delightful bread hails from Greece and is a staple during their Easter celebrations. This article will not only guide you through the process of making this delectable treat but also share a bit of its history and provide some variations to suit your taste buds.
History and Origin:
Greek Easter Bread, also known as "Tsoureki," is a beloved tradition in Greece and among Greek communities worldwide. This sweet, braided bread is typically baked during the Easter season to celebrate the resurrection of Jesus Christ. The bread's three-strand braid symbolizes the Holy Trinity and the red-dyed eggs, often nestled within the bread, signify Christ's blood and the joy of life.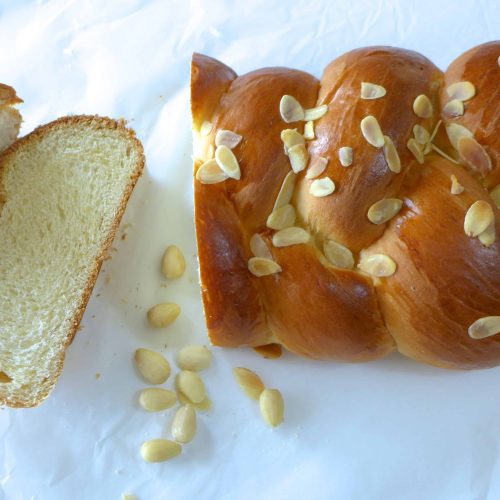 Greek Easter Bread Recipe
When it comes to Easter, there's nothing quite like the aroma of freshly baked Greek Easter bread, also known as Tsoureki.
Equipment
Mixing bowls

Baking sheet

Parchment paper

Rolling Pin

Pastry brush

Whisk

Plastic wrap
Ingredients
4 cups all-purpose flour

1 packet active dry yeast

1 cup warm milk

3/4 cup sugar

1/2 cup unsalted butter, melted

2 eggs

1 tsp vanilla extract

1 tsp ground mahlab (optional)

1/4 tsp salt

Red-dyed eggs (for decoration)
Instructions
Activate the Yeast: In a small bowl, dissolve the yeast in warm milk. Add a pinch of sugar, and let it sit for about 10 minutes until it becomes frothy.

Mix Ingredients: In a large mixing bowl, combine the yeast mixture, sugar, melted butter, eggs, vanilla extract, mahlab (if using), and salt. Gradually add the flour and knead until the dough is smooth and elastic.

First Rise: Place the dough in a greased bowl, cover it with plastic wrap, and let it rise in a warm place for about 1-2 hours, or until it doubles in size.

Braid the Bread: Punch down the dough, divide it into three equal parts, and braid them together. Place the red-dyed eggs into the braid.

Second Rise: Cover the braided bread and allow it to rise for another 30 minutes.

Bake: Preheat your oven to 350°F (175°C). Brush the bread with a beaten egg and bake for 25-30 minutes or until it turns golden brown.
Video
Similar Recipes:
If you enjoy Greek Easter bread, you might also like other Greek pastries such as Baklava, Koulourakia (Greek butter cookies), and Galaktoboureko (custard-filled pastry).
Conclusion:
Now, you're all set to create your own Greek Easter bread and savor this timeless tradition. Serve it during your Easter celebrations or enjoy it with a cup of coffee any time of the year. Enjoy your baking journey!
YouTube Video Credits:
Dimitra's Dishes