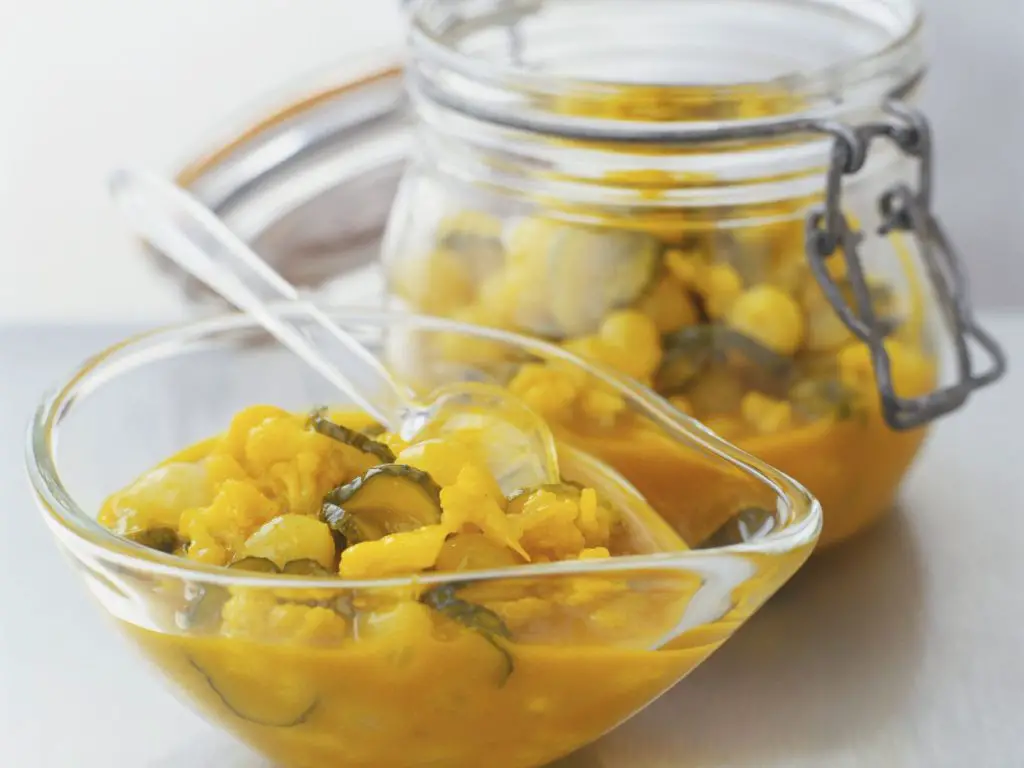 Green Tomato Piccalilli Recipe
Let's dive into the vibrant world of green tomato piccalilli! Originating from the heart of England, this zesty condiment has found its way into kitchens worldwide, adding a burst of flavor to various dishes. Get ready for a culinary adventure as we explore the history, ingredients, and step-by-step guide to crafting this tangy delight.
History of Green Tomato Piccalilli:
Green tomato piccalilli, a popular pickle in British cuisine, has its roots in the 17th century. Initially, it was a way to preserve the summer harvest through the winter months. Over time, the recipe evolved, and its unique blend of spices and tangy green tomatoes became a staple in many households.
Green Tomato Piccalilli Recipe
Hey there foodies, let's dive into the vibrant world of green tomato piccalilli!
Equipment
Large mixing bowl

Cutting board and knife

Large pot

Sterilized jars with lids
Ingredients
4 cups of green tomatoes, diced

1 cup of onions, finely chopped

1 cup of bell peppers, assorted colors, diced

1/2 cup of cauliflower florets

1/4 cup of kosher salt

2 cups of white vinegar

1 cup of sugar

1 tablespoon of mustard seeds

1 teaspoon of ground turmeric

1 teaspoon of celery seeds

1 teaspoon of mustard powder
Instructions
Begin by combining the diced green tomatoes, onions, bell peppers, and cauliflower in a large bowl. Sprinkle the kosher salt evenly and let it sit for about 2 hours to draw out excess moisture.

Rinse the vegetables thoroughly and drain well.

In a large pot, combine the white vinegar, sugar, mustard seeds, ground turmeric, celery seeds, and mustard powder. Bring the mixture to a boil, stirring until the sugar dissolves.

Add the drained vegetables to the pot and simmer for 10-15 minutes until they are tender-crisp.

Spoon the piccalilli into sterilized jars, ensuring there are no air pockets. Seal the jars and let them cool.
Video
Similar Recipes:
Spicy Mango Chutney
Sweet and Sour Pickled Radishes
Classic Bread and Butter Pickles
Conclusion:
Now that you've unlocked the secrets of green tomato piccalilli, unleash your culinary creativity! Try out different variations, experiment with spice levels, and share your flavorful creations. Don't forget to check out our suggested similar recipes for more pickling adventures.
YouTube Video:
Allrecipes