Lemon Ice Box Pie Recipe
Hey there, welcome once again. Today, I'm about to take you on a zesty, chilled journey with a classic treat that's been making taste buds dance for generations – the delightful Lemon Ice Box Pie! 🍋🥄
A Dash of History:
Imagine a sunny afternoon back in the early 19th century when this tangy wonder first made its appearance. A fusion of creamy goodness and vibrant citrus flavor, the Lemon Ice Box Pie quickly became a staple at gatherings and family feasts. Originating in the American South, it was initially crafted using ice boxes (hence the name) before refrigerators stole the show.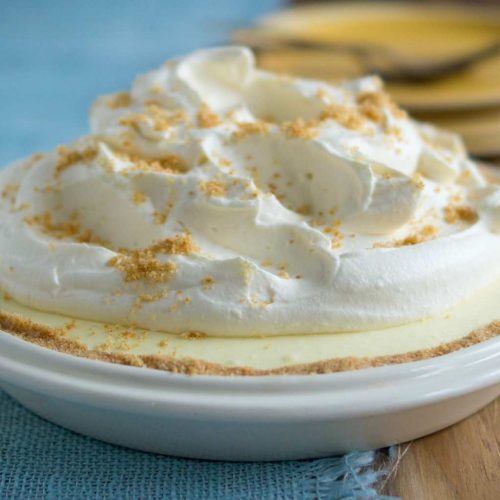 Lemon Ice Box Pie Recipe
I'm about to take you on a zesty, chilled journey with a classic treat that's been making taste buds dance for generations – the delightful Lemon Ice Box Pie! 🍋🥄
Equipment
Mixing bowl

Whisk

Citrus zester

Juicer

Pie dish
Ingredients
1 pre-made graham cracker pie crust

1 can (14 ounces) sweetened condensed milk

3 large egg yolks

Zest of 2 lemons

1/2 cup fresh lemon juice (about 4 lemons)

1 teaspoon pure vanilla extract

Whipped cream and lemon slices for garnish (optional)
Instructions
In a bowl, whisk together sweetened condensed milk, egg yolks, lemon zest, lemon juice, and vanilla extract until smooth and creamy.

Pour the luscious mixture into the graham cracker crust, spreading it evenly.

Pop it into the refrigerator and let it chill for at least 4 hours or, if you can resist the temptation, overnight.

When ready to serve, top with dollops of whipped cream and a few lemon slices for a refreshing touch.
Video
Variations to Try:
Feeling adventurous? Why not experiment with lime juice for a zingy Lime Ice Box Pie? Or embrace your creative side and add a berry twist with a Mixed Berry Ice Box Pie – the possibilities are as endless as your imagination.
Time to Dive In:
So, there you have it, the scrumptious Lemon Ice Box Pie recipe that's sure to put a smile on your face and a burst of flavor in every bite. Don't hesitate to give it a whirl and let your taste buds dance!
Why wait? Grab those lemons, whisk up a storm, and share the joy of this time-honored delight with your loved ones. And remember, as you enjoy your slice of heaven, you're savoring a bit of history too.
Until next time, keep cooking up a storm and savoring the sweet moments, my fellow foodies!
Cheers to a slice of sunshine.
YouTube Video Credits:
Kathy's Southern Kitchen