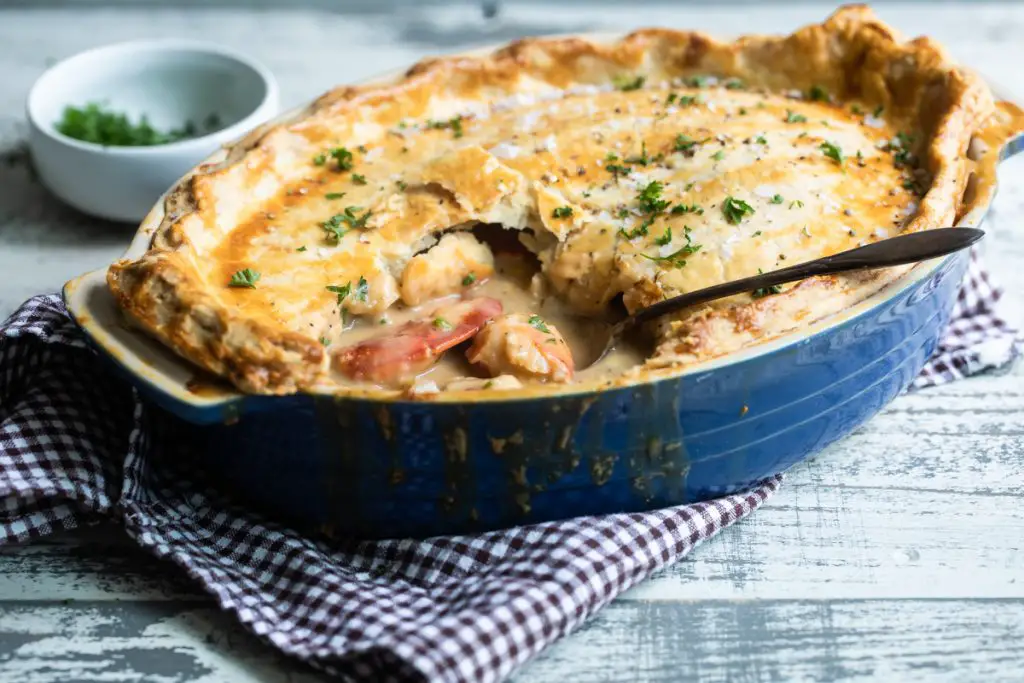 Lobster Pie Recipe
Hey there, from the foodie universe! 🍽️ Get ready to embark on a delightful culinary adventure as we dive into the world of delectable Lobster Pie! 🦞🥧
A Bite of History:
Imagine yourself transported to the coastal havens of the 18th century, where Lobster Pie emerged as a sumptuous delight. Originally a staple among seafarers and coastal communities, this dish has gracefully made its way to modern kitchens, adding a touch of elegance to our tables.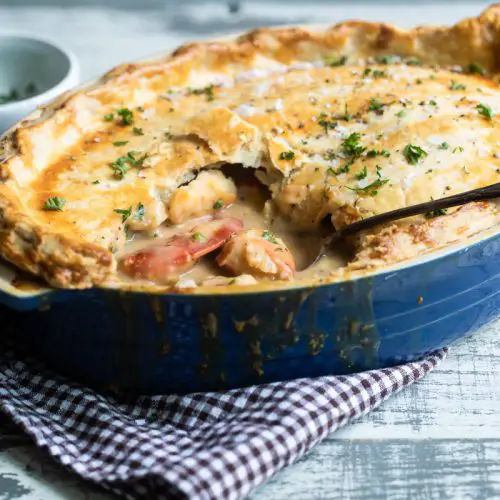 Lobster Pie Recipe
Get ready to embark on a delightful culinary adventure as we dive into the world of delectable Lobster Pie!
Equipment
Pie dish

Mixing bowl

Baking oven
Ingredients
Fresh lobster meat (about 1 pound), chopped

Buttery pie crust (store-bought or homemade)

Creamy mascarpone cheese

Finely diced celery

Chopped fresh chives

Zesty lemon juice

A dash of paprika for that extra oomph

Salt and pepper to taste
Instructions
Preheat your oven to a cozy 375°F (190°C).

Roll out your pie crust and lovingly place it into a pie dish.

In a mixing bowl, combine the lobster, mascarpone cheese, celery, chives, lemon juice, paprika, salt, and pepper. Mix until every ingredient dances in harmony.

Gently pour this divine mixture into your awaiting pie crust, ensuring an even distribution.

Top the heavenly filling with another layer of pie crust, crimping the edges to seal the symphony within.

Let your creation bake in the oven for around 25-30 minutes, or until the crust blushes to a golden hue and the aroma envelops your senses.
Video
Similar Delights Await:
If the sea's siren call beckons to your taste buds, explore these equally enticing recipes:
– Creamy Lobster Bisque: Dive into a bowl of velvety richness.
– Lobster Tail Tantalizers: Elevate your appetizer game with these bites of opulence.
Savor the Journey:
And there you have it, a journey through time and flavors, all captured in the exquisite embrace of a Lobster Pie. So, don your apron, gather your ingredients, and let your kitchen become the canvas for this masterpiece. Now, don't let the adventure end here. Share your culinary triumphs with us on your lifestyle-based blog or connect with fellow food enthusiasts on your social platforms. Let's inspire creativity and flavor-filled escapades together! Happy cooking and bon appétit! 🍽️🎉
P.S. If you're craving more epicurean adventures, stay tuned for more recipes and culinary tales that'll keep your taste buds dancing and your heart brimming with joy. Until then, happy feasting! 🌟
YouTube Video Credits:
Mikethestewburner