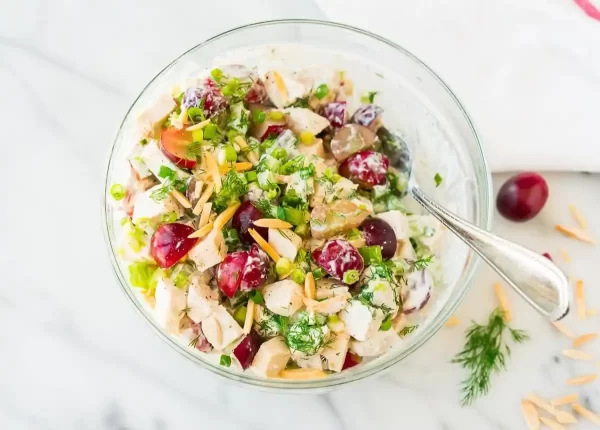 Low-Calorie Chicken Salad Recipe
Introduction:
Chicken salad is a classic dish that has stood the test of time as a beloved and versatile option for any mealtime. From its humble beginnings to its various contemporary iterations, chicken salad has evolved into a favorite amongst health-conscious foodies. In this article, we'll explore a low-calorie chicken salad recipe that's not only delicious but also easy to prepare. Packed with nutritious ingredients, this salad will tantalize your taste buds without compromising your health goals.
History of Chicken Salad:
The origin of chicken salad can be traced back to the late 19th century in the United States. It was first introduced as a way to utilize leftover chicken, often mixed with mayonnaise, herbs, and other fresh ingredients. Over time, the recipe evolved, and variations like Waldorf chicken salad, curry chicken salad, and avocado chicken salad emerged, catering to diverse palates.
Low-Calorie Chicken Salad Recipe
Chicken salad is a classic dish that has stood the test of time as a beloved and versatile option for any mealtime.
Equipment
Large mixing bowl

Cutting board

Sharp knife

Measuring spoons

Measuring cups

Spoon for mixing
Ingredients
2 cups cooked and shredded chicken breast (about 2 medium-sized chicken breasts)

1/2 cup plain Greek yogurt (low-fat or non-fat)

1 tablespoon Dijon mustard

1 tablespoon honey

1 celery stalk, finely diced

1/4 cup red onion, finely chopped

1/4 cup sweet and seedless grapes, halved

1/4 cup diced apple (preferably Granny Smith

2 tablespoons chopped fresh parsley

1/4 cup chopped walnuts or almonds (optional)

Salt and pepper to taste

Lettuce leaves or mixed greens for serving
Instructions
Step 1: In a large mixing bowl, combine the Greek yogurt, Dijon mustard, and honey. Mix them well to create a creamy dressing base.

Step 2: Add the shredded chicken to the dressing and toss until the chicken is thoroughly coated.

Step 3: Now, add the diced celery, red onion, halved grapes, diced apple, and chopped parsley to the chicken mixture. Gently fold the ingredients together until they are evenly distributed.

Step 4: If desired, add chopped walnuts or almonds for extra crunch and flavor.

Step 5: Season the salad with salt and pepper to taste. Adjust the seasoning according to your preference.

Step 6: Once the salad is well combined, cover the bowl and refrigerate it for at least 15-20 minutes to allow the flavors to meld.

Step 7: Before serving, line a plate or bowl with fresh lettuce leaves or mixed greens. Scoop the chilled chicken salad onto the greens.

Step 8: Enjoy your delicious and nutritious low-calorie chicken salad!
Video
Similar Recipes:
If you loved this low-calorie chicken salad, here are a few similar recipes you might want to explore:
Avocado Chicken Salad – Creamy and packed with healthy fats.
Curried Chicken Salad – Aromatic and exotic with a hint of spice.
Waldorf Chicken Salad – A delightful blend of sweet and savory flavors.
This low-calorie chicken salad recipe proves that healthy eating doesn't have to be boring. With its rich history and endless variations, chicken salad remains a timeless dish that satisfies both taste buds and health-conscious individuals. Whip up this easy-to-make recipe for a delightful meal that will keep you energized and feeling great. Enjoy the goodness of wholesome ingredients and savor the flavors guilt-free!
Try out this low-calorie chicken salad recipe today and share your healthy culinary creation with friends and family. Don't forget to experiment with different ingredients and dressings to make it uniquely yours. Eat well, stay fit, and keep exploring the world of delicious, nutritious meals!
YouTube Video Credits:
The Cooking Foodie