Strawberry Rhubarb Pie Recipe
Hey there, fellow food enthusiasts! Today, we're diving into the world of flavors with a scrumptious Strawberry Rhubarb Pie recipe that's bound to tantalize your taste buds and leave you craving for more. This classic dessert has a rich history and a delightful combination of sweet strawberries and tangy rhubarb that creates a symphony of flavors. Let's embark on this culinary adventure together and create a pie that will become the star of your dessert table.
A Brief History of Strawberry Rhubarb Pie:
Strawberry Rhubarb Pie's roots can be traced back to early American settlers, who combined the sweetness of ripe strawberries with the tartness of rhubarb to create a truly irresistible dessert. Over the years, this pie has become a beloved treat, especially during the warmer months when strawberries are in abundance. Its timeless appeal lies in the perfect balance between sweet and tangy, making it a staple at picnics, gatherings, and family celebrations.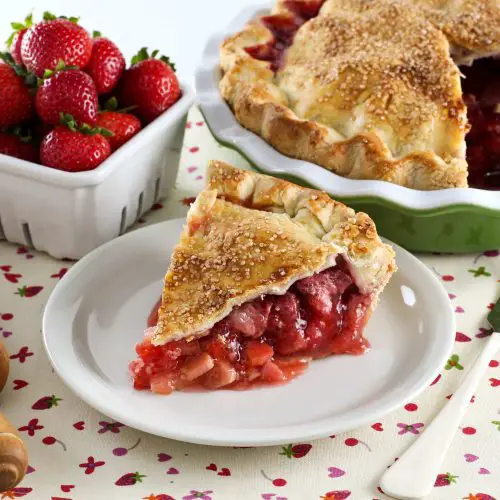 Strawberry Rhubarb Pie Recipe
Today, we're diving into the world of flavors with a scrumptious Strawberry Rhubarb Pie recipe that's bound to tantalize your taste buds and leave you craving for more.
Equipment
Mixing bowls

Measuring cups and spoons

Rolling Pin

Pie dish

Pastry brush
Ingredients
2 cups fresh strawberries, hulled and sliced

2 cups fresh rhubarb, diced into ½ inch pieces

1 cup granulated sugar

¼ cup cornstarch

1 teaspoon vanilla extract

½ teaspoon ground cinnamon

1 package (9 inches) refrigerated pie crusts (or homemade if you prefer)

1 egg, beaten (for egg wash)
Instructions
Preheat your oven to 375°F (190°C).

In a large mixing bowl, combine the sliced strawberries, diced rhubarb, sugar, cornstarch, vanilla extract, and ground cinnamon. Gently toss the mixture until the fruit is evenly coated.

Roll out one pie crust and gently press it into your pie dish, ensuring it covers the bottom and sides.

Pour the strawberry-rhubarb filling into the pie crust, spreading it out evenly.

Roll out the second pie crust and place it over the filling. You can create a lattice pattern or simply cover the pie and cut a few slits to allow steam to escape.

Trim any excess crust hanging over the edges and crimp the edges to seal the pie.

Brush the top crust with the beaten egg, which will give the pie a beautiful golden color while baking.

Place the pie on a baking sheet to catch any potential drips, and bake in the preheated oven for 45-50 minutes, or until the crust is golden brown and the filling is bubbling.

Once baked, remove the pie from the oven and allow it to cool on a wire rack before slicing and serving.
Video
Similar Recipes to Explore:
– Classic Blueberry Pie: Dive into a sea of juicy blueberries encased in a buttery, flaky crust.
– Peach and Raspberry Galette: A rustic and elegant dessert featuring the delightful pairing of ripe peaches and tangy raspberries.
In Conclusion:
Indulge in the goodness of our Strawberry Rhubarb Pie, a dessert that's steeped in history and bursting with vibrant flavors. Whether you're sharing it at a picnic, a family dinner, or a cozy night in, this pie is sure to delight your senses and create lasting memories. So, put on your apron and get ready to create a masterpiece that will have everyone asking for seconds!
Remember, creativity knows no bounds in the kitchen. Feel free to experiment with different fruit combinations or add a scoop of vanilla ice cream for an extra treat. Don't hesitate—let your culinary journey begin! Happy baking and bon appétit!
YouTube Video Credits:
Preppy Kitchen