Egg Salad Sandwich Recipe
Hey there, food enthusiasts! Today, we're taking a delicious journey into the past with our Old-Fashioned Egg Salad Sandwich recipe. This timeless classic has been a go-to comfort food for generations, and we're here to show you how to make it like a pro. Whether you're a seasoned chef or a newbie in the kitchen, this recipe is a must-try. Let's dive into the history, ingredients, step-by-step instructions, and more to create the perfect egg salad sandwich that'll leave your taste buds dancing.
A Dash of History:
The egg salad sandwich is a culinary gem with a rich history. It first gained popularity in the early 20th century as an affordable and filling option during the Great Depression. Over the years, it has evolved into a beloved classic, cherished for its simplicity and incredible taste.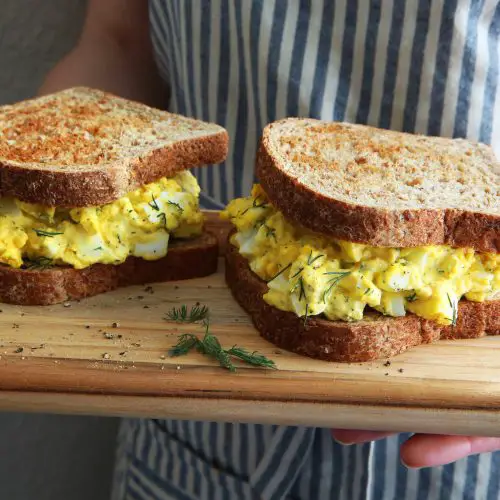 Egg Salad Sandwich Recipe
Today, we're taking a delicious journey into the past with our Old Fashioned Egg Salad Sandwich recipe.
Equipment
A saucepan

A mixing bowl

A fork

A cutting board

Measuring cups and spoons

Toaster (optional)

A knife
Ingredients
6 large eggs

1/4 cup mayonnaise

1 tablespoon Dijon mustard

1/4 cup finely chopped celery

2 tablespoons finely chopped red onion

1 teaspoon fresh lemon juice

Salt and pepper to taste

8 slices of your favorite bread

Lettuce leaves and tomato slices for garnish (optional)
Instructions
Boil the Eggs: Place the eggs in a saucepan and cover them with cold water. Bring the water to a boil, then reduce the heat and simmer for 9-12 minutes. Once done, transfer the eggs to a bowl of ice water to cool.

Peel and Chop: Once the eggs are cool, peel and chop them into small pieces. You can use a fork to achieve the desired consistency.

Mix the Salad: In a mixing bowl, combine the chopped eggs, mayonnaise, Dijon mustard, celery, red onion, lemon juice, salt, and pepper. Mix everything together until well combined.

Prepare the Sandwiches: Toast the slices of bread to your liking. Then, scoop a generous portion of the egg salad onto one slice of bread. Add lettuce leaves and tomato slices if desired. Top it with another slice of bread to make a sandwich.

Serve and Enjoy: Your Old Fashioned Egg Salad Sandwiches are ready to enjoy! Serve them as a delightful lunch or a quick and easy dinner option.
Video
Similar Recipes:
If you love this classic sandwich, you might also enjoy our recipes for "Creamy Chicken Salad Sandwich" and "Tuna Salad Delight."
Conclusion:
There you have it, folks, the Old-Fashioned Egg Salad Sandwich recipe that brings nostalgia and flavor to your plate. Whip up this timeless delight for yourself, family, and friends, and savor the taste of the past.
If you found this recipe egg-citing, be sure to explore more mouthwatering dishes on our website. Don't forget to share your kitchen adventures with us on social media! Happy cooking and stay tuned for more delectable recipes from our food blog.
YouTube Video Credits:
Laura in the kitchen