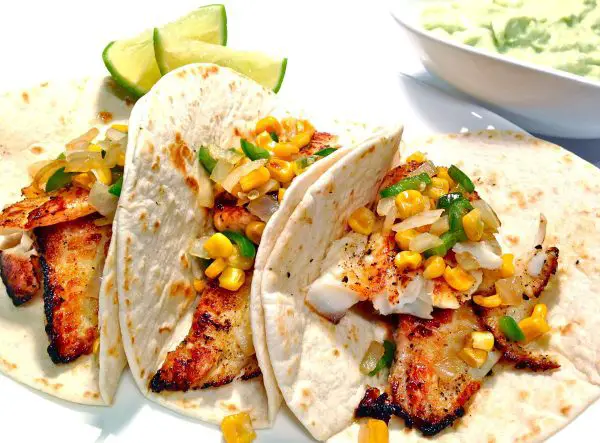 Fish Taco Recipe:
It is a known fact that if you are going to make fish tacos, then you will need the perfect crispy batter and marinade recipe to go along with it.
Fish tacos recipes have become a beloved culinary creation, celebrated for their delightful combination of fresh flavors and textures. Originating from the coastal regions of Mexico, this dish has quickly gained popularity around the world. Today, we bring you an exquisite fish tacos recipe that will transport your taste buds to a sunny beachside destination.
With a crisp golden coating and a harmonious blend of ingredients, these fish tacos are sure to be a hit at your next gathering or simply as a delicious weeknight meal.
History of Fish Tacos:
Fish tacos can be traced back to the coastal regions of Baja California in Mexico. The dish originated from the fusion of Mexican and Californian cuisines, influenced by the abundance of fresh seafood in the region.
It is believed that the concept of fish tacos was introduced by the local fishermen, who would use their fresh catch to create a simple and satisfying meal. Over time, the recipe has evolved, and today it is enjoyed in various forms, each with its own regional twist.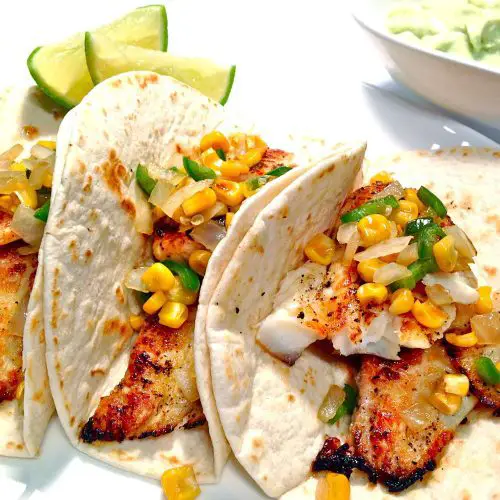 Fish Taco Recipe
It is a known fact that if you are going to make fish tacos, then you will need the perfect crispy batter and marinade recipe to go along with it.
Equipment
2 Shallow bowls

Large skillet or deep fryer

Kitchen towel

Paper towel
Ingredients
1 lb (450g) white fish fillets (tilapia, cod, or mahi-mahi)

1 cup all-purpose flour

1 teaspoon paprika

1 teaspoon garlic powder

1/2 teaspoon cayenne pepper (adjust to taste)

Salt and pepper to taste

1 cup buttermilk

Vegetable oil for frying

8 small flour tortillas

1 cup shredded cabbage

1/2 cup diced tomatoes

1/4 cup chopped fresh cilantro

1/4 cup mayonnaise

1 tablespoon lime juice

Lime wedges for serving
Instructions
Begin by preparing the fish fillets. Pat them dry with paper towels to remove excess moisture. Cut the fillets into small, manageable pieces, about 2-3 inches long.

In a shallow bowl, combine the flour, paprika, garlic powder, cayenne pepper, salt, and pepper. Mix well to ensure the spices are evenly distributed.

Pour the buttermilk into another shallow bowl. Dip each fish piece into the buttermilk, allowing any excess to drip off.

Transfer the fish into the seasoned flour mixture, ensuring each piece is evenly coated. Gently press the flour onto the fish to create a crispy crust. Set aside on a plate.

In a large skillet or deep fryer, heat vegetable oil to approximately 350°F (175°C). Carefully place a few pieces of the coated fish into the hot oil, being cautious not to overcrowd the pan.

Fry for about 3-4 minutes on each side until the fish is golden brown and cooked through. Repeat this process until all the fish is cooked, transferring the cooked pieces to a paper towel-lined plate to drain any excess oil.

While the fish is frying, warm the flour tortillas in a dry skillet over medium heat until pliable and lightly toasted. Keep them wrapped in a clean kitchen towel to retain their warmth.

To assemble the tacos, spread a dollop of mayonnaise on each tortilla. Top it with a portion of the crispy fish, shredded cabbage, diced tomatoes, and a sprinkle of fresh cilantro. Drizzle with lime juice for a tangy twist.

Serve the fish tacos immediately, accompanied by lime wedges on the side for an added burst of citrus flavor.
Video
Fish tacos are a wonderful culinary delight, combining the natural goodness of fresh fish with the vibrant flavors of Mexico. With this easy-to-follow recipe, you can recreate the essence of coastal cuisine right in your kitchen.
The crispy, seasoned fish, paired with the cool crunch of cabbage, the zing of lime, and the creaminess of mayonnaise, make each bite a taste sensation. Whether you're planning a beach-inspired party or simply seeking a delicious weeknight dinner option, these fish tacos are a surefire way to satisfy your cravings.
YouTube Video Credits:
Preppy Kitchen