Mrs. Fields Chocolate Chip Cookie Recipe
History of the Recipe
The Mrs. Fields Chocolate Chip Cookie recipe is a time-tested classic that has delighted cookie lovers for decades. It all began in the late 1970s when Debbi Fields, an ambitious young woman with a passion for baking, decided to turn her dream of owning a cookie store into reality. In 1977, she opened her first Mrs. Fields store in Palo Alto, California. The store's mouthwatering chocolate chip cookies quickly gained popularity, becoming a symbol of indulgence and joy. Today, Mrs. Fields is an iconic brand with stores around the world, but you don't have to travel far to enjoy these delectable treats. You can make them right in the comfort of your own kitchen!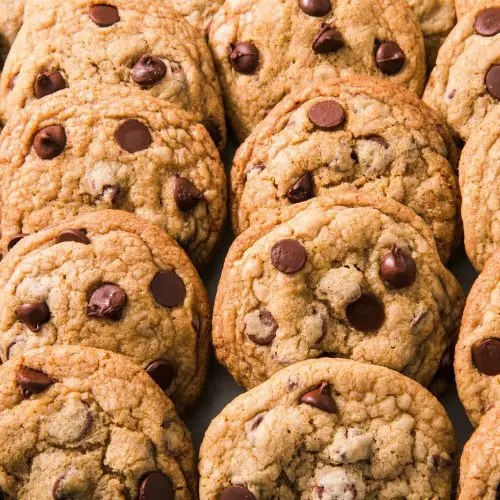 Mrs. Fields Chocolate Chip Cookie Recipe
The Mrs. Fields Chocolate Chip Cookie recipe is a time-tested classic that has delighted cookie lovers for decades.
Equipment
Large mixing bowl

Electric mixer (hand or stand mixer)

Measuring cups and spoons

Baking sheets

Parchment paper or silicone baking mats

Wire cooling rack
Ingredients
1 cup unsalted butter, softened

1 cup granulated sugar

1 cup brown sugar, packed

2 large eggs

1 teaspoon vanilla extract

2 cups all-purpose flour

1 teaspoon baking soda

1/2 teaspoon salt

2 cups semisweet chocolate chips

1 cup chopped nuts (optional, for added crunch)
Instructions
Preheat your oven to 350°F (175°C) and line baking sheets with parchment paper or silicone baking mats.

In a large mixing bowl, cream together the softened butter, granulated sugar, and brown sugar until light and fluffy using an electric mixer.

Beat in the eggs one at a time, followed by the vanilla extract, mixing well after each addition.

In a separate bowl, whisk together the all-purpose flour, baking soda, and salt. Gradually add this dry mixture to the wet ingredients, mixing until just combined.

Stir in the semisweet chocolate chips and chopped nuts (if using) until they are evenly distributed throughout the dough.

Using a spoon or cookie scoop, drop rounded tablespoons of dough onto the prepared baking sheets, leaving enough space between each cookie for slight spreading.

Bake the cookies in the preheated oven for 9 to 11 minutes or until the edges are lightly golden. The centers may still appear slightly undercooked, but they will firm up as they cool.

Remove the baking sheets from the oven and allow the cookies to cool on the sheets for a few minutes before transferring them to wire cooling racks to cool completely.
Video
Similar Recipes:
If you're a fan of chocolate chip cookies, you might also enjoy trying these variations:
White Chocolate Macadamia Nut Cookies: Replace the semisweet chocolate chips with white chocolate chips and add chopped macadamia nuts to the dough for a delightful twist.
Double Chocolate Chip Cookies: Intensify the chocolate flavor by using a combination of semisweet chocolate chips and dark chocolate chips in the dough.
Peanut Butter Chocolate Chip Cookies: Add a creamy and nutty flavor by incorporating peanut butter into the dough along with the chocolate chips.
Now that you have the secret to baking the irresistible Mrs. Fields Chocolate Chip Cookies, it's time to roll up your sleeves, preheat your oven, and treat yourself to some homemade cookie magic. Whether you're baking these cookies for yourself, your family, or a special gathering, these delicious delights are sure to bring smiles to everyone's faces. Enjoy the journey of baking and the blissful taste of warm, freshly baked cookies that will have you coming back for seconds (and maybe even thirds)!
So, what are you waiting for? Gather your ingredients, put on your apron, and let the baking adventure begin. Happy baking!
YouTube Video Credits:
Popsugarliving