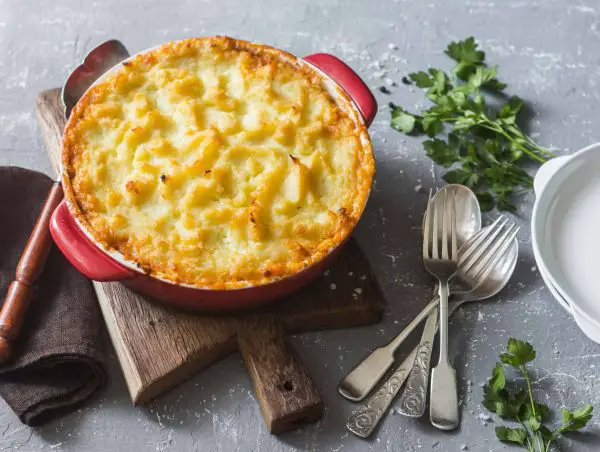 Shepherd's Pie Recipe
Shepherd's Pie is a classic dish that brings warmth and comfort to any table. With its roots in the British Isles, this hearty meal has been cherished for generations. Today, we'll take you on a delightful journey as we explore the history of Shepherd's Pie and guide you through a simple and scrumptious recipe that will surely become a favorite in your kitchen.
The History of Shepherd's Pie:
Originally known as "Cottage Pie," this savory dish was born in the United Kingdom during the late 18th century. The early version used minced meat, often mutton or lamb, combined with vegetables and topped with mashed potatoes. The name "Shepherd's Pie" emerged later, reflecting its association with shepherds and their livestock.
Shepherd's Pie Recipe
Shepherd's Pie is a classic dish that brings warmth and comfort to any table. With its roots in the British Isles, this hearty meal has been cherished for generations.
Equipment
Large Skillet

Potato masher

Large pot for boiling potatoes

Baking dish
Ingredients
1 lb ground lamb or beef (substitute with turkey or lentils for a vegetarian option)

1 large onion, finely chopped

2 carrots, diced

1 cup peas (fresh or frozen)

2 cloves garlic, minced

2 tablespoons tomato paste

1 cup beef or vegetable broth

1 tablespoon Worcestershire sauce

1 teaspoon dried thyme

Salt and pepper to taste
Instructions
Preheat your oven to 375°F (190°C).

In a large skillet over medium heat, add the ground lamb or beef and cook until browned. Drain any excess fat if necessary.

Add the chopped onion, diced carrots, and minced garlic to the skillet. Cook for about 5 minutes, until the vegetables soften.

Stir in the tomato paste, Worcestershire sauce, dried thyme, salt, and pepper. Pour in the beef or vegetable broth, and let the mixture simmer for 10 minutes, allowing the flavors to meld.

Add the peas to the skillet, stirring them into the meat and vegetable mixture. Simmer for an additional 5 minutes, ensuring everything is well combined.

While the filling simmers, place the potato chunks in a large pot of salted boiling water. Cook for about 15 minutes or until the potatoes are tender when pierced with a fork.

Drain the potatoes and return them to the pot. Add the butter, milk, salt, and pepper, then mash the potatoes until smooth and creamy.

In a greased baking dish, spread the meat and vegetable filling evenly. Top it with the creamy mashed potatoes, using a fork to create decorative lines on the surface.

Bake the Shepherd's Pie in the preheated oven for 20-25 minutes, or until the mashed potatoes turn lightly golden and slightly crispy.
Video
Similar Recipes:
For a delightful twist on the traditional Shepherd's Pie, consider trying:
– Guinness Shepherd's Pie: Infuse the filling with the rich and robust flavors of Guinness beer.
– Sweet Potato Shepherd's Pie: Swap regular potatoes for sweet potatoes, adding a touch of natural sweetness to the dish.
– Shepherd's Pie Stuffed Peppers: Fill bell peppers with the classic Shepherd's Pie filling and bake until tender.
Now that you've discovered the heartwarming history and the straightforward steps to create Shepherd's Pie, it's time to gather your ingredients, put on your apron, and let the aromas fill your kitchen. Whether you're sharing it with family or friends, this comforting dish is bound to become a cherished favorite. Enjoy the magic of this classic recipe and explore various variations to suit your taste. Happy cooking!
Conclusion:
Shepherd's Pie is not just a meal; it's a testament to the rich culinary history and traditions of the British Isles. With its flavorful filling and creamy mashed potato topping, this dish delivers a taste of nostalgia and comfort with every bite. So, go ahead and indulge in this timeless classic for a satisfying and heartwarming dining experience. Bon appétit!
YouTube Video Credits:
The Cooking Foodie