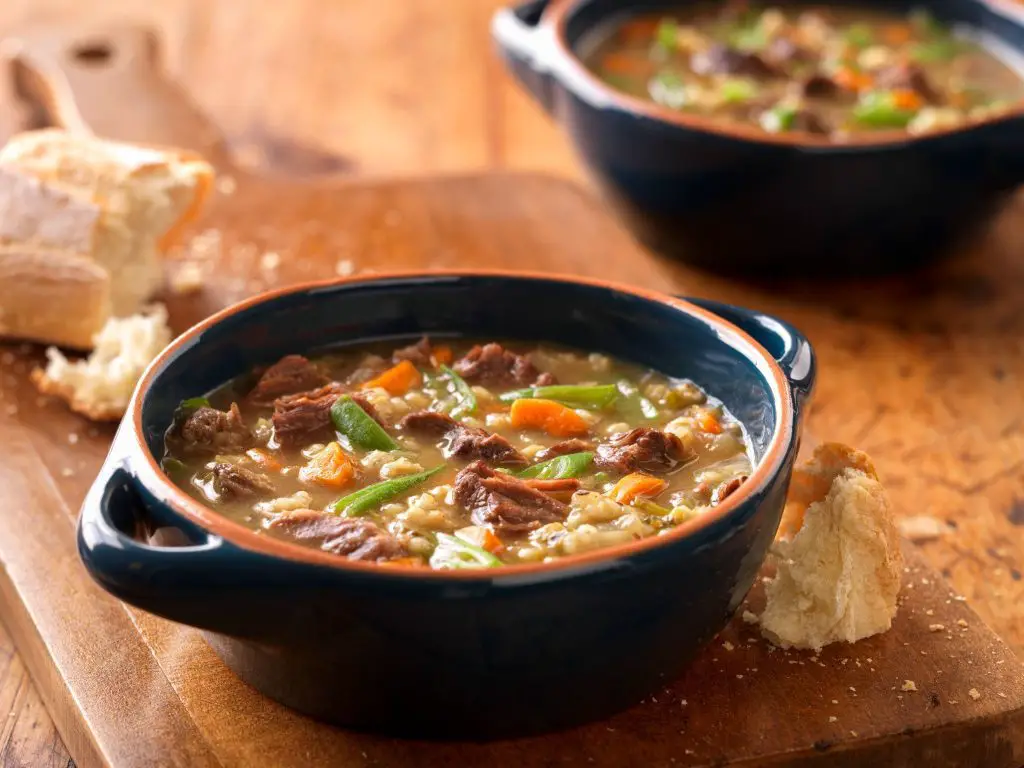 Beef Barley Soup Recipe
Hey there, fellow food enthusiasts! Today, we're diving into the heartwarming world of Beef Barley Soup – a classic recipe that's been cherished for generations. Whether you're looking to warm up during chilly evenings or simply indulge in a wholesome bowl of goodness, this recipe has got you covered. Let's embark on a flavorful journey and create a pot of culinary magic!
A Glimpse into the Past:
The origins of Beef Barley Soup can be traced back to the comforting kitchens of medieval Europe. A simple and nourishing dish, it has stood the test of time, evolving into the beloved recipe we know today. Traditionally, it was a frugal dish, making the most of available ingredients to create a meal that warms the soul and satisfies the appetite.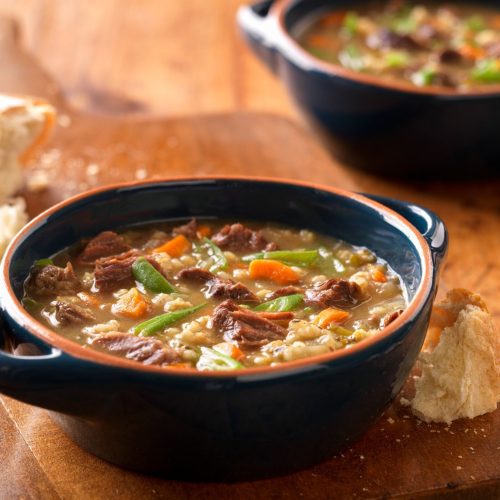 Beef Barley Soup Recipe
Today, we're diving into the heartwarming world of Beef Barley Soup – a classic recipe that's been cherished for generations.
Equipment
Large soup pot

Wooden spoon

Chef's knife

Cutting board
Ingredients
1 pound beef stew meat, cubed

1 cup pearl barley, rinsed and drained

1 onion, chopped

3 carrots, peeled and diced

3 celery stalks, diced

4 cloves garlic, minced

8 cups beef broth

1 teaspoon dried thyme

1 bay leaf

Salt and pepper to taste

2 tablespoons olive oil
Instructions
Heat the olive oil in the soup pot over medium-high heat. Add the beef cubes and cook until browned on all sides. Remove the beef and set it aside.

In the same pot, add the chopped onion, diced carrots, and celery. Sauté until the vegetables are tender and the onions are translucent.

Stir in the minced garlic, dried thyme, and bay leaf. Cook for about a minute until fragrant.

Return the browned beef to the pot. Add the rinsed barley and beef broth.

Bring the mixture to a boil, then reduce the heat to low. Cover the pot and let it simmer for about 45-50 minutes, or until the barley is tender and the flavors meld beautifully.

Season with salt and pepper to taste.
Video
Serve and Savor:
Ladle the Beef Barley Soup into bowls, and let the enticing aroma whisk you away. This heartwarming dish is perfect on its own, but a crusty piece of bread or a sprinkle of fresh herbs can elevate the experience. Share it with family and friends, and revel in the joy of a shared meal.
Exploring Variations:
Looking to explore similar recipes? If you're a fan of the classic Beef Barley Soup, you might also enjoy trying out variations like Mushroom Barley Soup or Vegetable Barley Soup. These recipes offer delightful twists while maintaining that cozy essence we all crave.
Time to Create Culinary Memories:
Now that you've got the secrets to crafting a sensational Beef Barley Soup, it's time to roll up your sleeves, don your apron, and get cooking! Create lasting memories as you enjoy this nourishing dish with your loved ones. Warmth, flavor, and comfort – all in a single bowl. Happy cooking!
Feel free to reach out if you have any questions or want more culinary inspiration. Let's keep the delicious conversations going!
Bon appétit.
YouTube Video Credits:
Sip And Feast