Vitamix Tomato Soup Recipe
Hey there! 🍅 Ready to dive into a delicious bowl of comfort? Let's talk about a classic favorite that's bound to warm your soul – the Vitamix Tomato Soup. Not only is this recipe a flavor explosion, but it's also a breeze to whip up. So, put on your apron, and let's get cooking!
A Taste of History:
Before we jump into the recipe, let's take a quick stroll down memory lane. The history of tomato soup traces back to the 18th century when tomatoes made their way to Europe from the Americas. Eventually, they found their place in soups, revolutionizing the culinary scene.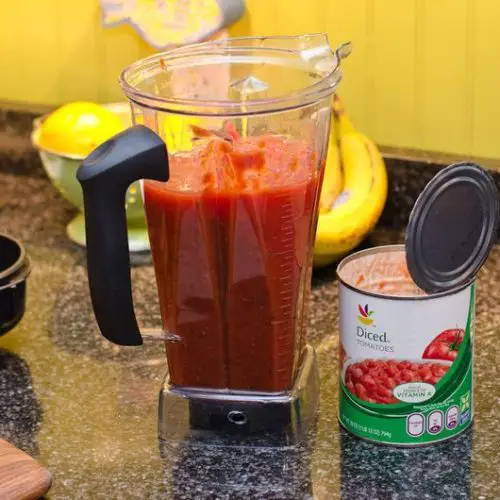 Vitamix Tomato Soup Recipe
Let's talk about a classic favorite that's bound to warm your soul – the Vitamix Tomato Soup.
Ingredients
6 ripe tomatoes, diced

1 medium onion, chopped

3 cloves of garlic, minced

2 cups vegetable broth

1/2 cup heavy cream (or coconut milk for a twist)

2 tablespoons olive oil

1 teaspoon dried basil

Salt and pepper to taste
Instructions
Heat olive oil in a saucepan over medium heat. Add chopped onions and sauté until they turn translucent.

Toss in the minced garlic and sauté for another minute until that tantalizing aroma fills the air.

Introduce those diced tomatoes to the party. Sauté them until they break down and release their juicy goodness.

Sprinkle in the dried basil, salt, and pepper, stirring to let those flavors mingle.

Pour in the vegetable broth and bring the mixture to a gentle boil. Let it simmer for about 15 minutes.

Time to blend! Carefully transfer the mixture to your trusty Vitamix blender. Blend until smooth, and you've got that velvety texture we all adore.

Pour the blended soup back into the saucepan and stir in the heavy cream. Heat it up, but don't let it boil.

Ladle this masterpiece into bowls, and you're ready to savor every spoonful.
Video
More Goodness to Explore:
If you're in the mood for some variety, why not try these delicious twists?
– Roasted Red Pepper Tomato Soup: Add roasted red peppers for an extra layer of smoky sweetness.
– Creamy Tomato Basil Soup: Amp up the basil for an aromatic herbal kick.
Time to Dig In:
There you have it – a simple, flavorful, and heartwarming Vitamix Tomato Soup recipe that's sure to become a household favorite. So, gather your loved ones, get those ladles ready, and dive into a bowl of comfort.
Now it's over to you! Give this recipe a whirl and let me know how it turns out. Feel free to explore more recipes on my blog for your culinary adventures. Happy cooking, [Your Name]! 🍲👩‍🍳
P.S. Got any questions or want to share your kitchen triumphs? Drop a comment below – I'd love to hear from you!
YouTube Video Credits:
Tommy – Raw Blend