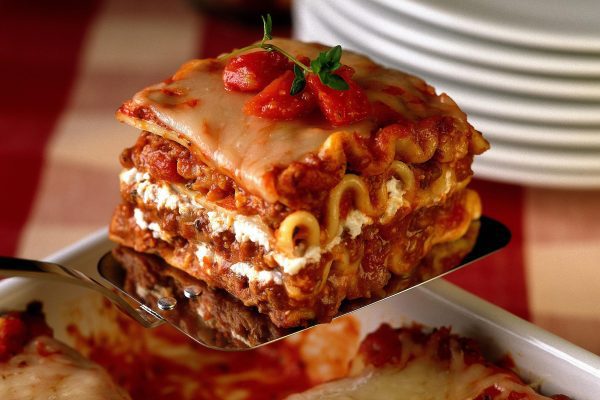 Lasagna Recipe
Are you in the mood for a mouthwatering, classic Italian dish that will warm your heart and delight your taste buds? Look no further than the iconic Lasagna! This timeless comfort food has been loved by generations and continues to be a crowd-pleaser at family gatherings and dinner parties alike. In this article, we'll take you on a delightful journey into the history of Lasagna, share an easy-to-follow recipe, list the ingredients, provide the calorie count per serving, and reveal how many minutes it takes to prepare and cook this delectable dish. Let's dive in!
A Brief History of Lasagna:
Lasagna, a beloved Italian pasta dish, has a history that can be traced back to ancient Greece. The word "lasagna" is believed to have originated from the Greek word "Laganon," which referred to a flat, thin dough sliced into strips. As time passed, the dish made its way to Italy, where it evolved into the layered and savory culinary masterpiece we know today.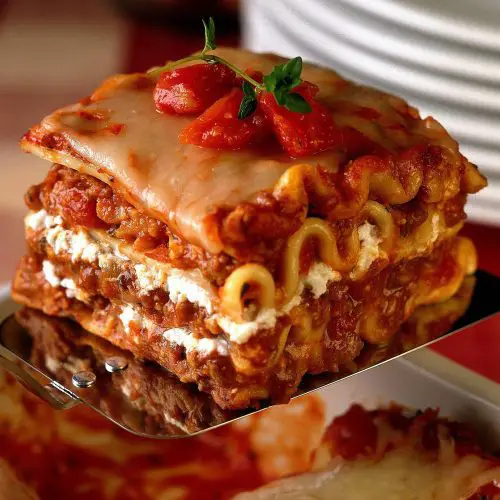 Lasagna Recipe
This timeless comfort food has been loved by generations and continues to be a crowd-pleaser at family gatherings and dinner parties alike.
Equipment
Large pot for boiling the noodles

Skillet or sauté pan for cooking the meat and onions

9x13-inch (23x33cm) baking dish

Mixing bowls

Wooden spoon or spatula

Aluminum foil
Ingredients
1 pound (450g) of lasagna noodles

1 pound (450g) of ground beef or Italian sausage

1 large onion, finely chopped

3 garlic cloves, minced

1 24-ounce (680g) jar of your favorite marinara sauce

1 15-ounce (425g) container of ricotta cheese

2 cups (500g) of shredded mozzarella cheese

1/2 cup (50g) of grated Parmesan cheese

1 large egg

2 tablespoons of fresh basil, chopped

1 tablespoon of fresh oregano, chopped

Salt and pepper to taste
Instructions
Preparation: Preheat your oven to 375°F (190°C).

Boil the Noodles: Cook the lasagna noodles according to the package instructions in a large pot of salted boiling water. Once cooked, drain the noodles and set them aside.

Cook the Meat and Onions: In a skillet or sauté pan over medium heat, cook the ground beef or Italian sausage until it's browned and cooked through. Add the finely chopped onions and minced garlic, and sauté until the onions are soft and translucent. Drain any excess fat from the meat mixture.

Prepare the Cheese Mixture: In a mixing bowl, combine the ricotta cheese, 1 cup of shredded mozzarella, grated Parmesan, beaten egg, chopped basil, chopped oregano, salt, and pepper. Mix well until everything is thoroughly combined.

Layer the Lasagna: In a 9x13-inch (23x33cm) baking dish, spread a thin layer of marinara sauce at the bottom. Place a layer of cooked lasagna noodles over the sauce. Add half of the meat mixture, followed by a layer of the cheese mixture. Repeat the layers with the remaining ingredients, finishing with a layer of marinara sauce on top.

Bake the Lasagna: Cover the baking dish with aluminum foil and bake in the preheated oven for about 30 minutes. Then, remove the foil and continue baking for an additional 15 minutes or until the cheese on top is golden and bubbly.

Serve and Enjoy: Remove the Lasagna from the oven and let it cool slightly before slicing and serving. Garnish with additional fresh basil and oregano if desired.
Video
Similar Recipes:
If you want to explore other variations of Lasagna, you can try:
Vegetable Lasagna: Replace the meat with layers of sautéed vegetables like zucchini, spinach, mushrooms, and bell peppers for a delicious vegetarian version.
Seafood Lasagna: Use shrimp, crab, and scallops as the main protein, creating a delightful seafood twist to the traditional recipe.
Congratulations! You've now mastered the art of preparing a mouthwatering Lasagna that's sure to impress your family and friends. So, don your apron, gather the ingredients and equipment, and get ready to enjoy the delightful aromas and flavors that will fill your kitchen. Whether it's a special occasion or a simple weeknight dinner, Lasagna is the ultimate crowd-pleaser.
Share this recipe with your loved ones and encourage them to try making Lasagna themselves. And don't forget to let us know how your cooking adventure went! Happy cooking and buon appetito!
YouTube Video Credits:
Preppy Kitchen