Oyster Dressing Recipe
Hey there, fellow food enthusiasts! Today, we're diving into the world of flavors with a timeless classic that's been delighting taste buds for generations – Oyster Dressing. This savory dish brings together the essence of tradition and the excitement of culinary creativity. Whether you're preparing for a special occasion or simply craving a delectable treat, this recipe is sure to become a highlight on your dining table.
A Brief History of Oyster Dressing:
Oyster Dressing has a rich history that traces back to the coastal regions, where oysters were abundant and a staple in local diets. It's believed that this dish was born out of a desire to make use of seasonal ingredients while infusing a burst of seaside flavors. Over time, Oyster Dressing has evolved into a beloved holiday favorite, cherished for its comforting taste and heartwarming nostalgia.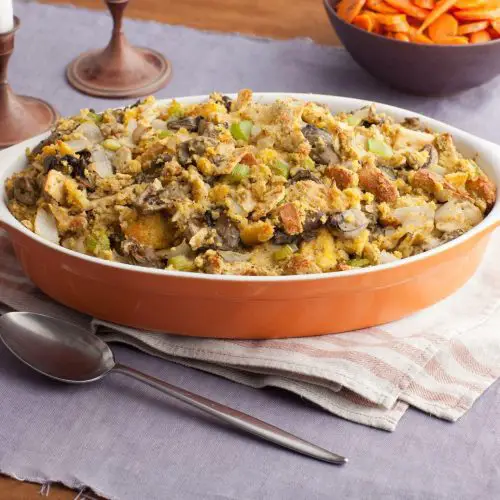 Oyster Dressing Recipe
Today, we're diving into the world of flavors with a timeless classic that's been delighting taste buds for generations - Oyster Dressing.
Equipment
Large mixing bowl

Baking dish

Skillet
Ingredients
Fresh oysters (about 2 cups), shucked and chopped

4 cups of day-old bread, cubed

1 cup of celery, finely chopped

1 cup of onion, finely chopped

1/2 cup of butter, melted

2 cloves of garlic, minced

2 tablespoons of fresh parsley, chopped

1 teaspoon of dried thyme

1 teaspoon of dried sage

Salt and pepper to taste

2 cups of chicken or vegetable broth
Instructions
Preheat your oven to 350°F (175°C).

In a skillet over medium heat, sauté the chopped celery and onion in melted butter until they turn translucent.

Add the minced garlic, dried thyme, and dried sage. Sauté for an additional 2 minutes until fragrant.

In a large mixing bowl, combine the bread cubes and the sautéed mixture.

Gently fold in the chopped oysters, chopped parsley, and a pinch of salt and pepper.

Gradually pour in the chicken or vegetable broth, stirring gently to ensure everything is well combined.

Transfer the mixture into a greased baking dish, spreading it evenly.

Bake in the preheated oven for about 45-50 minutes, until the top is golden brown and the dressing is cooked through.

Once done, remove from the oven and let it cool slightly before serving.
Video
Variations and Similar Recipes:
Feeling adventurous? Try adding some cooked and crumbled bacon for an extra layer of flavor. If you're a fan of seafood, consider incorporating cooked shrimp or crab meat for a delightful seafood twist. For a vegetarian version, replace the oysters with chopped mushrooms and enhance the savory profile with a sprinkle of grated Parmesan cheese.
There you have it, a delectable Oyster Dressing recipe that's bound to steal the show at your next gathering or cozy family dinner. The combination of briny oysters, aromatic herbs, and buttery bread cubes will surely leave everyone craving for more. So, roll up your sleeves, put on your apron, and embark on a culinary adventure that promises to tickle your senses and warm your heart.
Remember, cooking is an art that invites your creativity. Feel free to experiment with the recipe, make it your own, and share your delicious twists with us in the comments below. Bon appétit!
YouTube Video Credits:
AllRecipes