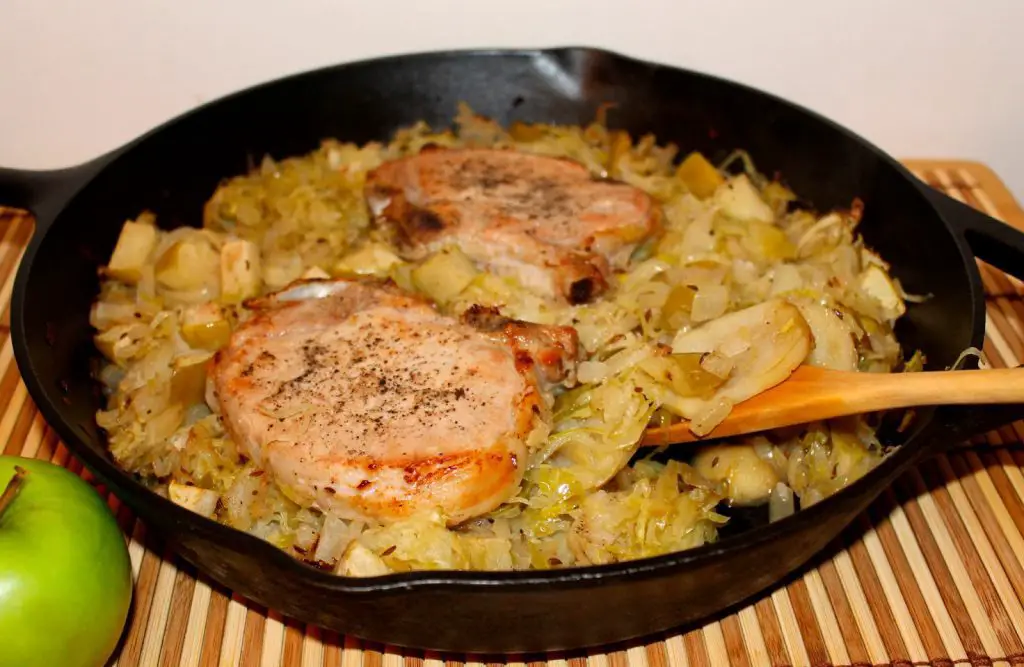 Pork Chop And Sauerkraut Recipe
Hey there, welcome to our culinary journey! Today, we're diving into the delicious world of pork chop and sauerkraut, a classic recipe with a rich history. This hearty dish has its origins in Germany and has become a beloved comfort food worldwide. Not only will we provide you with a step-by-step guide to prepare this mouthwatering meal, but we'll also share some similar recipes to satisfy your taste buds.
A Brief History:
Pork chop and sauerkraut, known as "Kasseler mit Sauerkraut" in Germany, has been a staple in German cuisine for centuries. It's often associated with the region of Hesse, where it originated. The combination of tender, succulent pork chops and tangy sauerkraut creates a harmonious flavor profile that's hard to resist.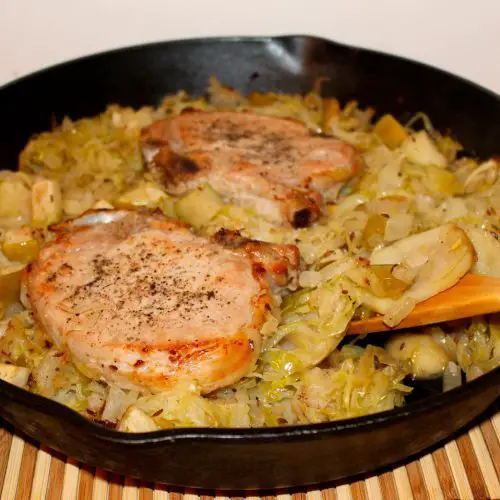 Pork Chop And Sauerkraut Recipe
Today, we're diving into the delicious world of pork chop and sauerkraut, a classic recipe with a rich history.
Equipment
Skillet or frying pan

Tongs

Mixing bowl

Baking dish

Aluminum foil
Ingredients
4 pork chops

1 lb sauerkraut (canned or fresh)

2 tablespoons vegetable oil

1 onion, finely chopped

2 cloves garlic, minced

1 teaspoon caraway seeds (optional)

Salt and pepper to taste

1 cup chicken broth

2 apples, sliced (for garnish)
Instructions
Preheat your oven to 350°F (175°C).

In a skillet, heat the vegetable oil over medium-high heat.

Season the pork chops with salt and pepper, then sear them in the hot skillet until golden brown on both sides. This should take about 3-4 minutes per side. Remove them from the skillet and set them aside.

In the same skillet, add chopped onions and minced garlic. Sauté them until they become translucent.

Optionally, sprinkle caraway seeds into the skillet for an extra layer of flavor.

Drain the sauerkraut and add it to the skillet, mixing it with the onions and garlic.

Pour in the chicken broth and bring the mixture to a simmer.

Transfer the sauerkraut mixture to a baking dish.

Place the seared pork chops on top.

Cover the baking dish with aluminum foil and bake in the preheated oven for 30-35 minutes.

Remove the foil, add sliced apples on top of the pork chops, and bake uncovered for an additional 10-15 minutes until the pork is cooked through and the apples are tender.
Video
Similar Recipes:
If you enjoy pork chop and sauerkraut, you might also like these related recipes:
– Pork Schnitzel: A German favorite, featuring breaded and fried pork cutlets.
– Bratwurst and Sauerkraut: Sausages simmered with sauerkraut for a savory delight.
– German Potato Salad: A zesty side dish that pairs perfectly with pork dishes.
Conclusion:
Now that you've mastered the art of making pork chop and sauerkraut, it's time to savor this classic dish with friends and family. We hope you enjoyed learning about its rich history and found our step-by-step guide helpful.
YouTube Video Credits:
Old Man's Kitchen