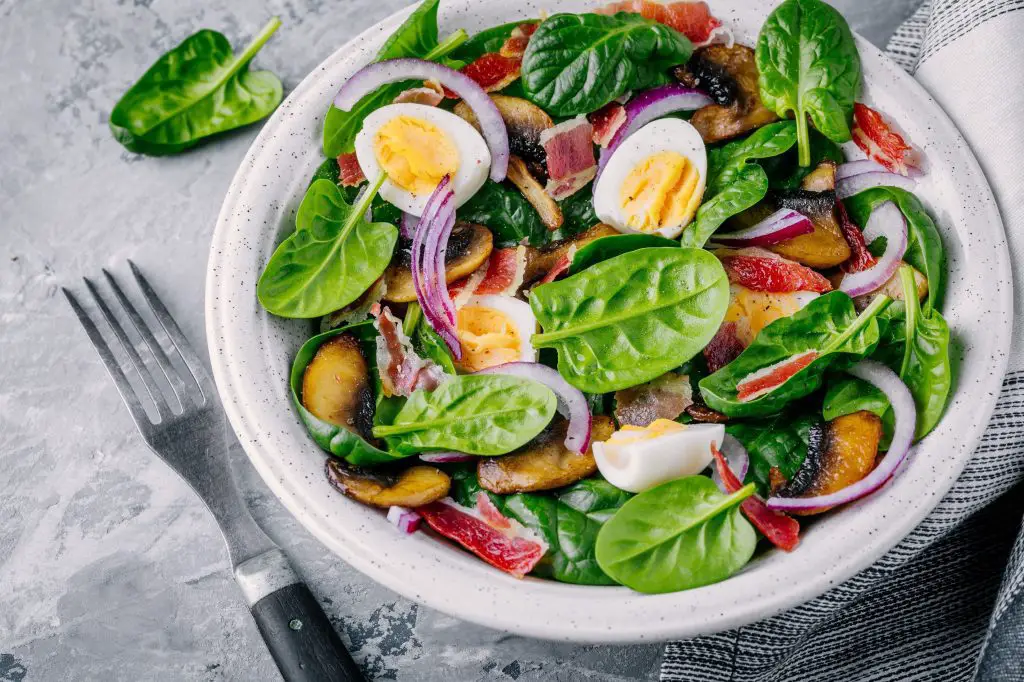 Spinach Salad Recipe
Hey there, fellow food enthusiasts! Today, I'm thrilled to share a delightful recipe that's not only scrumptious but also incredibly healthy – the Spinach Salad! Packed with vibrant flavors, essential nutrients, and a touch of crunch, this salad is a true winner. Let's dive into the world of greens and goodness!
A Brief Spinach Salad History:
Spinach has been a beloved leafy green for centuries, tracing back its origins to ancient Persia. It gained popularity in the Mediterranean region before making its way to various cuisines around the globe. Fast forward to today, and we're crafting a modern twist on this classic dish.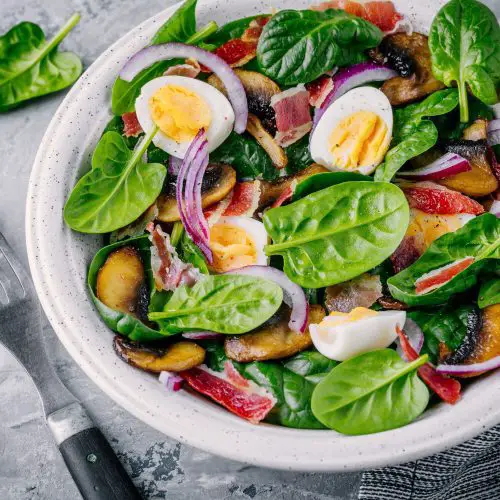 Spinach Salad Recipe
Today, I'm thrilled to share a delightful recipe that's not only scrumptious but also incredibly healthy – the Spinach Salad!
Equipment
Mixing bowl

Salad tongs

Serving platter
Ingredients
Fresh baby spinach leaves

Cherry tomatoes, halved

Sliced cucumber

Red onion, thinly sliced

Crumbled feta cheese

Toasted pine nuts

Balsamic vinaigrette dressing
Instructions
Start by washing and thoroughly drying the baby spinach leaves. Freshness is key!

In a mixing bowl, combine the spinach, cherry tomatoes, cucumber, and red onion.Sprinkle in the crumbled feta cheese and toasted pine nuts for a burst of flavor and texture.

Drizzle your preferred amount of balsamic vinaigrette dressing over the salad. Start with a modest amount and add more to taste.

Gently toss the ingredients using salad tongs, ensuring an even distribution of flavors and dressing.

Transfer the salad to a beautiful serving platter, showcasing the vibrant colors and textures.
Video
Similar Recipes:
Looking to explore more delightful salads? How about trying a Quinoa and Kale Salad for a protein-packed option, or a Mango Avocado Salad for a tropical twist? The world of salads is yours to discover!
Time to Dig In:
With everything beautifully combined, it's time to savor every bite of your Spinach Salad creation. The freshness of the ingredients, the creaminess of the cheese, and the delightful crunch of pine nuts will surely have your taste buds dancing.
As you relish this nutritious delight, why not share your salad masterpiece with us and let us know how your Spinach Salad turned out. Join our growing community of food enthusiasts and inspire others to embrace the joy of cooking and healthy eating!
There you have it – a fantastic Spinach Salad recipe that's bound to become a favorite in your culinary repertoire. Remember, eating well doesn't mean sacrificing flavor, and this salad is a testament to that. Stay tuned for more delectable recipes and culinary adventures. Until next time, happy cooking and bon appétit!
YouTube Video Credits:
SweetPhi Blog