White Clam Sauce Recipe
Hey there, let's dive into the world of culinary delight as we explore the tantalizing flavors of White Clam Sauce. This classic Italian dish has a rich history and is beloved by food enthusiasts worldwide. In this article, we'll take you on a gastronomic journey, complete with step-by-step instructions, ingredients, nutritional information, and some fantastic variations. Get ready to embark on a seafood adventure that will leave your taste buds dancing!
A Brief History of White Clam Sauce:
White Clam Sauce, or "Linguine alle Vongole" in Italian, hails from the picturesque shores of Italy, specifically Naples. This coastal region's bountiful seafood influenced the creation of this delectable dish, showcasing the marriage of fresh clams with a simple yet flavorful sauce.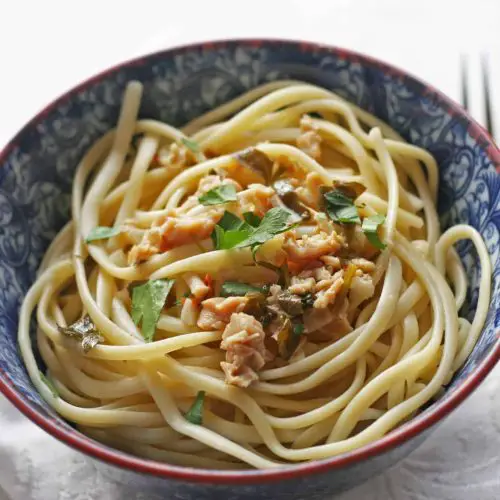 White Clam Sauce Recipe
Let's dive into the world of culinary delight as we explore the tantalizing flavors of White Clam Sauce.
Equipment
Large pot for pasta

Large skillet with a lid

Wooden spoon

Pasta strainer

Grater (for Parmesan cheese)
Ingredients
1 pound linguine pasta

2 dozen fresh clams (small or littleneck)

4 cloves garlic, minced

1/4 cup extra-virgin olive oil

1/4 teaspoon red pepper flakes (adjust to your spice preference)

1/2 cup dry white wine

1/4 cup fresh parsley, chopped

Salt and black pepper to taste

Grated Parmesan cheese for garnish (optional)
Instructions
Start by bringing a large pot of salted water to a boil. Cook the linguine pasta according to the package instructions until it's al dente. Drain and set aside.

While the pasta is cooking, heat the olive oil in a large skillet over medium heat. Add the minced garlic and red pepper flakes, sautéing for about a minute or until the garlic becomes fragrant. Be careful not to let it brown.

Add the fresh clams to the skillet and pour in the white wine. Cover the skillet with a lid and let it simmer for about 5-7 minutes, or until the clams open. Discard any clams that do not open.

Remove the skillet from heat and transfer the cooked clams to a separate plate, leaving the flavorful liquid in the skillet.

Toss the cooked linguine into the skillet with the liquid, and add half of the chopped parsley. Stir well to coat the pasta with the delicious clam-infused sauce. Season with salt and black pepper to taste.

Plate the linguine and arrange the cooked clams on top. Garnish with the remaining chopped parsley and, if desired, a generous sprinkle of grated Parmesan cheese.
Video
Variations and Similar Recipes:
For a creamy twist, try adding a splash of heavy cream to the sauce.
– Experiment with different types of pasta, such as fettuccine or spaghetti.
– Incorporate diced tomatoes for a fresh burst of flavor.
– Explore other seafood options like shrimp or mussels.
There you have it, a mouthwatering White Clam Sauce recipe that's sure to impress your family and friends. Whether you're a seasoned chef or a novice in the kitchen, this dish is a breeze to prepare and a joy to savor.
Now, it's your turn! Get creative, experiment with variations, and share your culinary masterpiece with the world. Stay tuned for more delightful recipes and foodie adventures. Happy cooking!
YouTube Video Credits:
Sip and Feast