Bison Chili Recipe
Hey there, fellow food enthusiasts! 🍲 Are you ready to embark on a culinary adventure that combines the rich history of chili with the bold flavors of bison meat? Look no further, because we've got an irresistible Bison Chili recipe that will surely tantalize your taste buds. Whether you're a seasoned chef or just starting your kitchen journey, this recipe is a must-try. Let's dive in and uncover the secrets of creating this mouthwatering masterpiece!
A Brief History of Bison Chili:
Before we get into the nitty-gritty, let's take a quick trip back in time. Chili, with its roots in Tex-Mex cuisine, has been a beloved comfort food for generations. Bison, the lean and flavorful meat native to North America, brings a wholesome twist to this classic recipe. Its historical significance in indigenous cultures adds depth to this dish, making it not just a meal, but a connection to the past.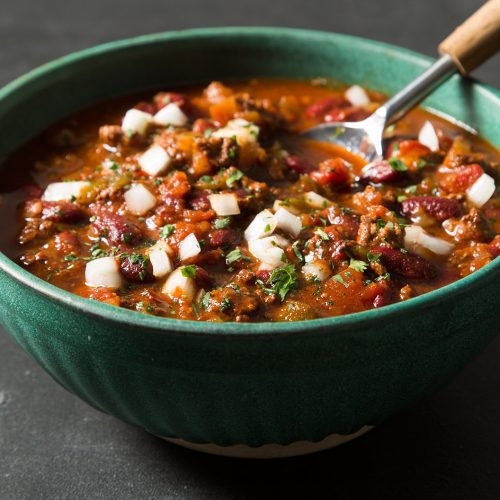 Bison Chili Recipe
Are you ready to embark on a culinary adventure that combines the rich history of chili with the bold flavors of bison meat?
Equipment
Large pot

Wooden spoon

Chef's knife

Cutting board
Ingredients
1 lb ground bison meat

1 large onion, diced

2 bell peppers (red and green), diced

3 cloves garlic, minced

1 can (15 oz) kidney beans, drained and rinsed

1 can (15 oz) crushed tomatoes

2 cups beef or bison broth

2 tbsp chili powder

1 tsp cumin powder

1/2 tsp paprika

Salt and pepper to taste

2 tbsp olive oil

Optional toppings: shredded cheese, sour cream, chopped green onions
Instructions
Heat olive oil in the pot over medium heat. Add diced onion and bell peppers. Sauté until softened and slightly caramelized.

Add minced garlic and ground bison meat. Break up the meat with a spoon and cook until browned.

Sprinkle in chili powder, cumin, paprika, salt, and pepper. Stir to coat the meat and vegetables with the aromatic spices.

Pour in crushed tomatoes and beef or bison broth. Stir well to combine.

Add drained kidney beans and give it a gentle stir.

Bring the chili to a gentle simmer. Cover the pot and let it cook for about 20-25 minutes, allowing the flavors to meld together.

Taste and adjust the seasonings as needed. If you prefer a thicker consistency, simmer uncovered for an additional 10 minutes.

Ladle the Bison Chili into bowls and top with your favorite garnishes - shredded cheese, sour cream, and chopped green onions.
Video
Variations:
Feeling adventurous? Try these exciting twists on the Bison Chili recipe:
– Swap kidney beans for black beans or pinto beans for a unique flavor profile.
– Add a touch of heat with chopped jalapeños or a pinch of cayenne pepper.
– Experiment with different toppings, such as diced avocado or a squeeze of lime juice.
Ready to savor the bold flavors of Bison Chili? Gather your ingredients, fire up the stove, and let your kitchen become a hub of creativity and deliciousness. This hearty recipe is perfect for cozy nights in or for impressing guests at your next gathering. Don't hesitate to share your culinary masterpiece with us and tag us on social media using #BisonChiliDelight. Happy cooking and bon appétit! 🌶️🍽️
YouTube Video Credits:
Fit Men Cook