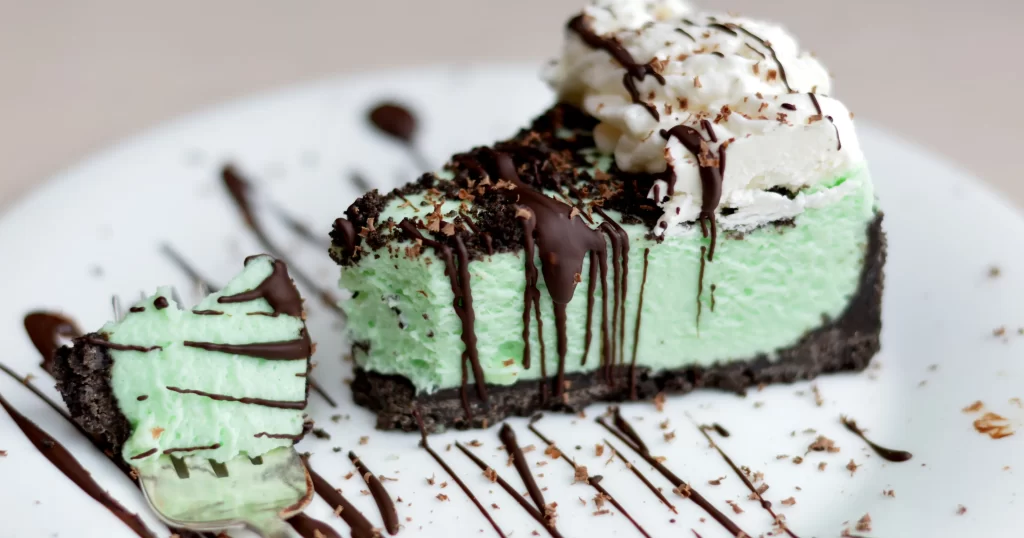 Grasshopper Pie Recipe
Hey there! Today, I've got a scrumptious treat lined up for you on the food blog—a delightful Grasshopper Pie Recipe that's going to tickle your taste buds and make your day. This classic dessert is a perfect blend of refreshing mint and velvety chocolate flavors. And guess what? It's a breeze to make! So, let's dive into the world of Grasshopper Pie and whip up some culinary magic.
A Dash of History:
Before we get to the fun part, let's sprinkle a bit of history onto our plates. The Grasshopper Pie traces its origins back to the 1950s, an era of groovy vibes and adventurous flavors. The name itself is believed to be inspired by its vibrant green color, reminiscent of grasshoppers' lush habitats. Since then, this pie has become a beloved dessert that brings a smile to the faces of young and old.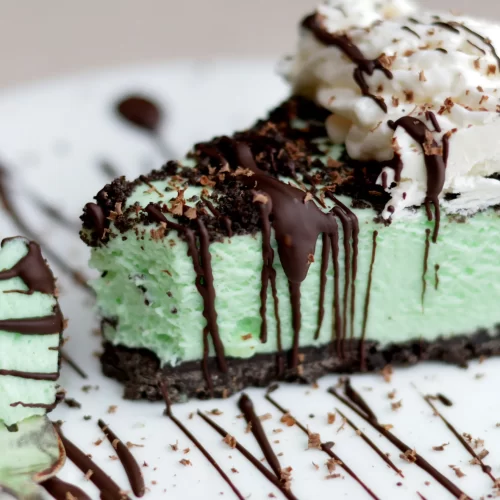 Grasshopper Pie Recipe
Today, I've got a scrumptious treat lined up for you on the food blog—a delightful Grasshopper Pie Recipe that's going to tickle your taste buds and make your day.
Equipment
9-inch pie dish

Mixing bowls

Whisk

Saucepan
Ingredients
1 ½ cups chocolate cookie crumbs

¼ cup unsalted butter, melted

1 package (0.25 oz) unflavored gelatin

¼ cup cold water

½ cup boiling water

¾ cup granulated sugar

¼ cup crème de menthe liqueur

2 tablespoons crème de cacao liqueur

2 cups heavy whipping cream

Green food coloring (optional)

Chocolate shavings or curls (for garnish)
Instructions
In a mixing bowl, combine the chocolate cookie crumbs and melted butter. Press the mixture into the bottom and sides of the pie dish to create the crust. Chill in the refrigerator while you prepare the filling.

In a small bowl, sprinkle the unflavored gelatin over the cold water. Let it sit for a minute to soften.

Pour the boiling water over the softened gelatin and whisk until completely dissolved.

In another bowl, mix the granulated sugar, crème de menthe liqueur, and crème de cacao liqueur until well combined.

Gradually whisk the gelatin mixture into the sugar and liqueur mixture.

If desired, add a few drops of green food coloring to achieve the signature grasshopper hue.

In a separate bowl, whip the heavy whipping cream until stiff peaks form.

Gently fold the whipped cream into the minty mixture until well combined.

Pour the filling into the prepared crust and smooth the top with a spatula.

Refrigerate the pie for at least 3 hours, or until it's set and firm.

Once chilled, garnish the pie with chocolate shavings or curls for an extra touch of decadence.
Video
Similar Recipes:
– Mint Chocolate Chip Ice Cream Cake
– Chocolate Peppermint Brownies
– Minty Chocolate Pudding Parfait
Conclusion: Savor the Minty Bliss
There you have it—a delicious Grasshopper Pie that's bound to delight your taste buds and impress your guests. The cool and creamy texture, coupled with the refreshing minty flavor, makes this dessert a true crowd-pleaser. Whether it's a summertime soirée or a cozy winter gathering, Grasshopper Pie is a versatile treat that's sure to shine on your dessert table.
Ready to indulge in a slice of minty heaven? Whip up this Grasshopper Pie and let the delightful flavors transport you to dessert paradise. Share your creation with us and let us know how it turned out! Remember, creativity in the kitchen knows no bounds, so feel free to experiment with different variations and presentation styles to make this recipe uniquely yours. Enjoy every minty bite!
And as always, if you're looking for more delectable dessert ideas or culinary inspiration, stay tuned for more mouthwatering recipes and delightful culinary adventures.
Bon appétit!
YouTube Video Credits:
Marcy Inspired