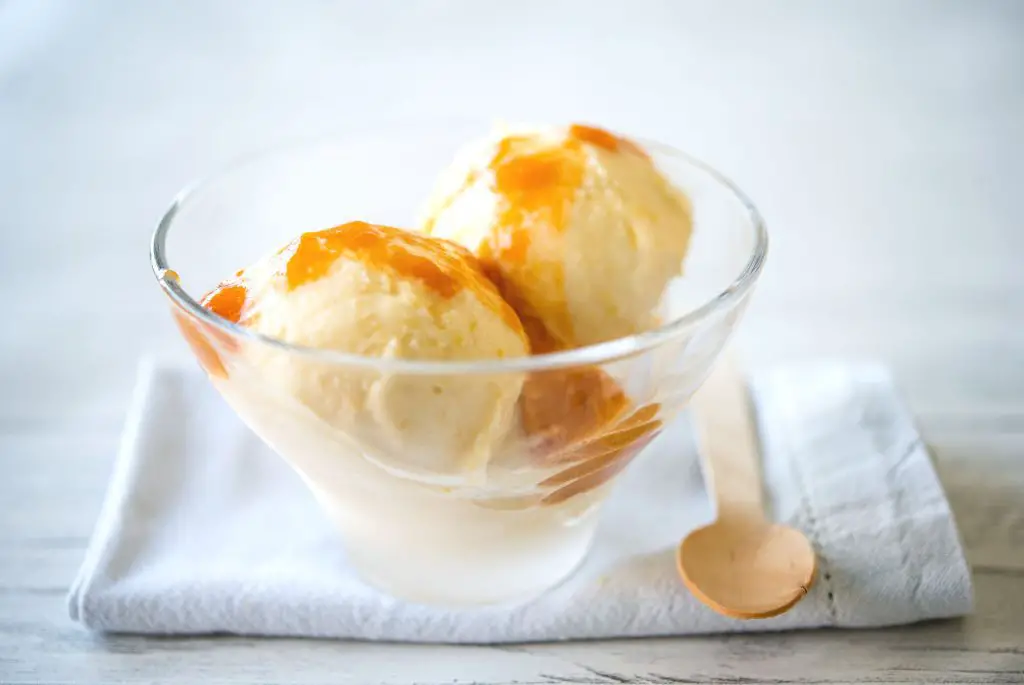 Peach Ice Cream Recipe
Hey there, fellow food enthusiasts! If you're craving a taste of summer in a scoop, look no further than this delectable Peach Ice Cream recipe. Whether you're lounging by the pool, hosting a backyard barbecue, or simply want to indulge your sweet tooth, this frosty delight is the answer.
A Brief History of Peach Ice Cream:
Peaches have been delighting taste buds for centuries, and their journey into the realm of ice cream is no different. It's said that ancient Persians were among the first to blend fruit with ice, creating a precursor to our beloved frozen treats. Over time, the craft evolved, and by the 18th century, ice cream was a cherished dessert enjoyed by many. Fast forward to today, and we have this delightful Peach Ice Cream to savor!
Peach Ice Cream Recipe
If you're craving a taste of summer in a scoop, look no further than this delectable Peach Ice Cream recipe.
Equipment
Ice cream maker

Mixing bowls

Whisk

Rubber spatula

Measuring cups and spoons
Ingredients
4 ripe peaches, peeled, pitted, and diced

1 cup granulated sugar

2 cups heavy cream

1 cup whole milk

1 teaspoon vanilla extract

Pinch of salt
Instructions
Prepare the Peaches: In a bowl, mix the diced peaches with 1/4 cup of sugar. Let them sit for about 15 minutes to release their natural juices.

Blend the Base: In a separate bowl, whisk together the remaining sugar, heavy cream, milk, vanilla extract, and salt until the sugar is fully dissolved.

Combine and Chill: Gently fold the peach mixture into the cream base. Cover the bowl and refrigerate for at least 2 hours, allowing the flavors to meld beautifully.

Churn the Magic: Pour the chilled mixture into your ice cream maker and churn according to the manufacturer's instructions. This typically takes around 20-25 minutes, transforming the mixture into a lusciously creamy consistency.

Freeze and Enjoy: Transfer the churned ice cream into an airtight container and let it firm up in the freezer for about 4 hours or until it reaches your desired texture.

Serve and Delight: Scoop out the Peach Ice Cream into bowls or cones, and relish in the fruity, velvety goodness. Each serving bursts with the refreshing flavors of summer.
Video
Preparation: 15 minutes
Chilling: 2 hours
Churning: 20-25 minutes
Freezing: 4 hours
Similar Recipes to Explore:
– Mango Tango Ice Cream: For a tropical twist, swap peaches for juicy mangoes in this recipe.
– Berrylicious Bliss: Try using mixed berries for a colorful and tangy variation.
Indulge in the goodness of homemade Peach Ice Cream and let the flavors of summer dance on your taste buds. Whether you're enjoying a lazy afternoon or hosting a get-together, this treat is a guaranteed crowd-pleaser. So, why wait? Gather your ingredients, fire up the ice cream maker, and embark on a journey of deliciousness. Don't forget to share your frozen creations with friends and family – it's a delightful experience meant to be savored together!
Embrace the joy of homemade ice cream and let the spirit of summer shine through every creamy spoonful. Happy scooping, my fellow dessert enthusiasts! 🍑🍦
YouTube Video Credits:
Omnivorous Adam