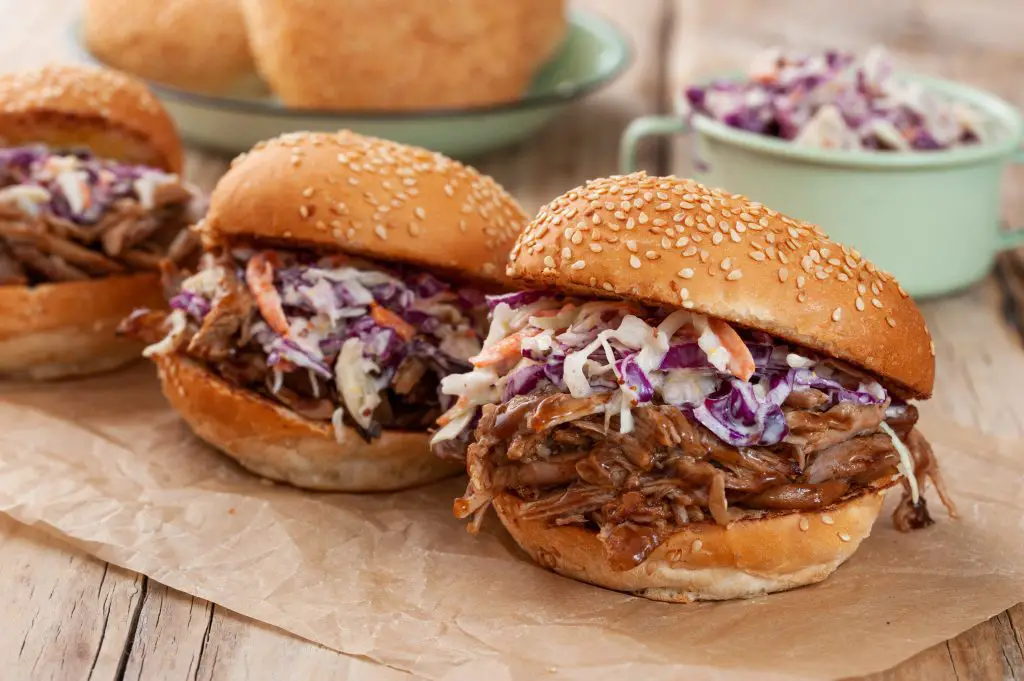 Pulled Pork Recipe
Hey there! Ready to embark on a culinary adventure that's sure to make your taste buds dance? Today, we're diving into the delightful world of pulled pork. This classic dish has a rich history and a flavor that's second to none. So, roll up your sleeves, gather your ingredients, and let's get cooking!
The Story Behind Pulled Pork:
Pulled pork has a fascinating history that traces back to the Southern United States. It's a dish born from the heart of BBQ culture, where slow cooking and smoky flavors reign supreme. Traditionally, whole pork shoulders are slow-cooked over open flames or in smokers, resulting in tender, flavorful meat that practically melts in your mouth.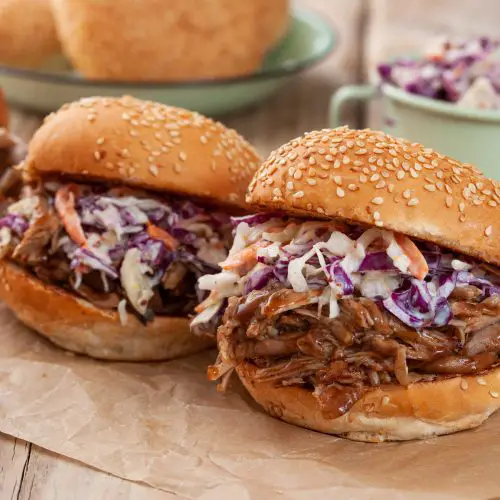 Pulled Pork Recipe
Today, we're diving into the delightful world of pulled pork. This classic dish has a rich history and a flavor that's second to none.
Equipment
Slow cooker or smoker

Tongs for handling the meat

Forks for shredding

Mixing bowls
Ingredients
4-5 pounds of pork shoulder (bone-in for extra flavor)

2 tablespoons of your favorite BBQ rub

1 cup of BBQ sauce (plus extra for serving)

1 onion, sliced

4 cloves of garlic, minced

1 teaspoon of paprika

1 teaspoon of cumin

Salt and pepper to taste
Instructions
Prep the Pork: Start by generously rubbing the pork shoulder with your BBQ rub. Cover it and let it sit in the fridge for at least an hour (overnight if you have the time) to let those flavors mingle.

Sear the Meat: Heat a skillet over medium-high heat. Sear the pork shoulder on all sides until you get a nice crust. This step adds an extra layer of flavor!

Slow Cooker Magic: Place the sliced onions and minced garlic at the bottom of your slow cooker. Put the seared pork shoulder on top. Sprinkle paprika, cumin, salt, and pepper over the meat. Pour in 1 cup of BBQ sauce. Cover and cook on low for 8-10 hours or until the meat is fall-apart tender.

Shred and Sauce: Once the pork is cooked to perfection, use two forks to shred the meat. Mix in more BBQ sauce to your liking, ensuring every morsel is coated in that finger-licking goodness.

Serve and Enjoy: Scoop a generous portion of pulled pork onto a bun. Top it with some extra BBQ sauce if you're feeling saucy. Serve alongside coleslaw, pickles, or your favorite sides.
Video
Similar Recipes:
Pulled Chicken: Swap out the pork for boneless, skinless chicken thighs and follow the same steps for a lighter twist on the classic.
Jackfruit Pulled "Pork": Perfect for our vegetarian friends, jackfruit mimics the texture of pulled pork when cooked and shredded.
There you have it, a mouthwatering journey into the world of pulled pork! Whether you're hosting a backyard BBQ bash or simply craving some comfort food, this recipe is a winner. Don't be afraid to get creative with your sides and toppings – endless possibilities. So, fire up that slow cooker, gather your friends and family, and let the flavors of pulled pork take center stage at your next gathering. Happy cooking and even happier eating!
Stay tuned for more scrumptious recipes on your food blog. And remember, the kitchen is your canvas, so let your culinary creativity shine!
Catch you on the flavorful side.
P.S. Pull pork might become your go-to recipe if you're a fan of smoky flavors and succulent bites. Share your pulled pork creations with us and let's keep the delicious conversation going!
YouTube Video Credits:
Natashas Kitchen