Shrimp Creole Recipe
Welcome to our food blog! Today, we're excited to take you on a flavorful journey to the heart of Louisiana with a delightful dish – Shrimp Creole! This zesty and tangy recipe combines succulent shrimp with a rich tomato-based sauce, creating a harmony of flavors that will surely leave your taste buds dancing. Let's dive into the history, ingredients, step-by-step instructions, and more, so you can recreate this Cajun classic in your own kitchen.
A Brief History of Shrimp Creole:
Shrimp Creole finds its origins in the vibrant culinary traditions of Louisiana. This dish can be traced back to the 18th century when Louisiana was influenced by diverse cultures, including Spanish, French, and African. The Creole cuisine emerged as a fusion of these culinary heritages, blending spices, tomatoes, and local seafood.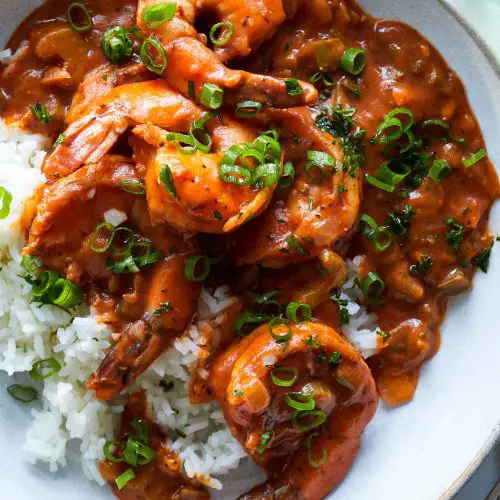 Shrimp Creole Recipe
This zesty shrimp creole recipe combines succulent shrimp with a rich tomato-based sauce, creating a harmony of flavors that will surely leave your taste buds dancing.
Equipment
Large skillet or sauté pan

Wooden spoon

Cutting board

Chef's knife

Measuring spoons and cups
Ingredients
1 pound (450g) large, peeled and deveined shrimp

1 can (14 ounces) diced tomatoes

1 large onion, finely chopped

1 green bell pepper, finely chopped

2 celery stalks, finely chopped

3 cloves of garlic, minced

2 tablespoons vegetable oil

1 cup chicken or seafood broth

1 tablespoon tomato paste

2 teaspoons Creole seasoning (adjust to taste)

1 teaspoon dried thyme

1 bay leaf

1/4 teaspoon cayenne pepper (optional for extra heat

Salt and pepper to taste

Cooked rice for serving

Fresh parsley for garnish
Instructions
Heat the vegetable oil in a large skillet over medium heat. Add the chopped onions, bell pepper, and celery. Sauté until they turn soft and translucent, about 5 minutes.

Stir in the minced garlic and cook for another minute until fragrant.

Add the diced tomatoes, tomato paste, chicken (or seafood) broth, bay leaf, dried thyme, Creole seasoning, and cayenne pepper (if using). Give it a good stir, and let it simmer for 10 minutes, allowing the flavors to meld together.

Season the shrimp with salt and pepper, then add them to the skillet. Cook for about 5-7 minutes until the shrimp turn pink and are fully cooked through.

Remove the bay leaf from the sauce, and your delicious Shrimp Creole is ready to be served!
Video
Similar Recipes:
Chicken and Sausage Gumbo – A comforting, hearty stew with chicken, sausage, and a flavorful roux-based sauce.
Jambalaya – A one-pot wonder combining rice, shrimp, and smoked sausage with a burst of spices.
Crawfish Étouffée – A delightful dish featuring tender crawfish tails smothered in a rich and savory sauce.
Embrace the flavors of Louisiana by trying out this delectable Shrimp Creole recipe! It's a dish that brings people together and fills your kitchen with joy. Gather your ingredients, follow our easy-to-understand instructions, and experience the magic of Creole cuisine right at home. Don't forget to share your culinary masterpiece with friends and family, and let us know how it turns out! Happy cooking!
Note: The calorie count provided is an estimate and may vary based on individual ingredients and serving sizes.
YouTube Video Credits:
Smokin' & Grillin with AB