9×13 Brownie Recipe
Hello there! Today, I'm excited to share with you a delicious 9×13 brownie recipe that's not only easy to make but also a surefire crowd-pleaser. Brownies are a timeless classic, and this recipe adds a delightful twist by using cocoa powder to achieve that rich chocolatey goodness. So, let's dive right in!
A Brief History of Brownies:
Brownies have been a beloved treat for generations. Their origin is somewhat mysterious, with various stories attributing their creation to different sources. Some believe that brownies were a happy baking accident, while others credit the Palmer House Hotel in Chicago as the birthplace of the first brownie in the late 19th century. Regardless of their origins, brownies have since become a staple in the world of sweet treats.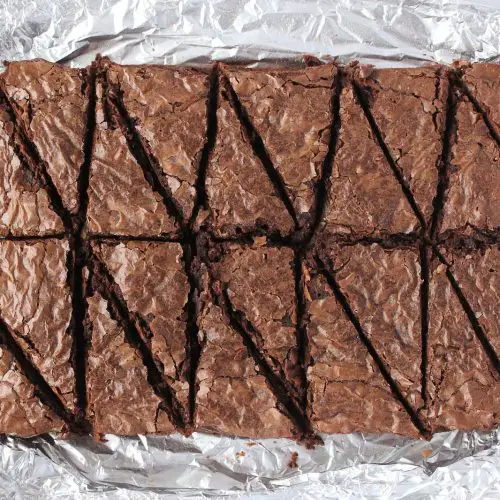 9x13 Brownie Recipe
I'm excited to share with you a delicious 9x13 brownie recipe that's not only easy to make but also a surefire crowd-pleaser.
Equipment
9x13 inch baking pan

Mixing bowls

Whisk or electric mixer

Spatula

Cooking spray or parchment paper
Ingredients
1 cup of unsalted butter (2 sticks)

2 cups of granulated sugar

1 cup of unsweetened cocoa powder

1 teaspoon of vanilla extract

4 large eggs

1 cup of all-purpose flour

1/2 teaspoon of baking powder

1/2 teaspoon of salt
Instructions
Preheat your oven to 350°F (175°C) and grease your 9x13 inch baking pan or line it with parchment paper.

In a microwave-safe bowl, melt the butter in 30-second increments until it's completely melted.

In a separate mixing bowl, combine the sugar and cocoa powder.

Pour the melted butter over the sugar and cocoa mixture and stir until well combined.

Add the eggs one at a time, mixing well after each addition.

Stir in the vanilla extract.In another bowl, whisk together the flour, baking powder, and salt.

Gradually add the dry ingredients to the wet ingredients, mixing until just combined. Be careful not to overmix.

Pour the batter into your prepared baking pan, spreading it evenly.

Bake in the preheated oven for 25-30 minutes or until a toothpick inserted into the center comes out with a few moist crumbs.

Allow the brownies to cool in the pan for about 15 minutes before cutting them into squares.
Video
Similar Recipes
If you're a fan of brownies, you might also enjoy exploring variations like caramel brownies, peanut butter swirl brownies, or even gluten-free brownies for those with dietary restrictions.
Now that you've got the recipe for these heavenly brownies, it's time to put on your apron and start baking. Share this delightful treat with your loved ones, and don't forget to let us know how they turn out. Happy baking!
YouTube Video Credits:
Tasty