Italian Pignoli Cookie Recipe
Hey there, Today, we're diving into the world of Italian cuisine with a mouthwatering recipe for Pignoli Cookies. These delightful treats have a rich history and are sure to become a favorite in your baking repertoire. So, let's get started on this sweet journey!
A Brief History of Pignoli Cookies:
Pignoli cookies, also known as "pignoli nut cookies" or "pignoli cookies," have their roots in Italian culinary tradition. These delectable almond-flavored cookies are popular throughout Italy and beyond. The name "pignoli" comes from the Italian word for pine nuts, which are a key ingredient in this recipe.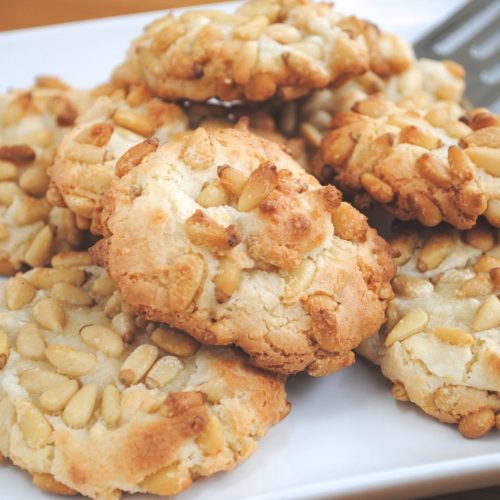 Italian Pignoli Cookie Recipe
Today, we're diving into the world of Italian cuisine with a mouthwatering recipe for Pignoli Cookies.
Equipment
Mixing bowls

Hand or stand mixer

Baking sheets

Parchment paper
Ingredients
2 cups almond paste1

1/4 cups granulated sugar

2 egg whites

1/2 teaspoon almond extract

1 cup pine nuts

Confectioners' sugar for dusting
Instructions
Preheat Your Oven: Begin by preheating your oven to 325°F (160°C). Line your baking sheets with parchment paper.

Prepare the Almond Paste: In a mixing bowl, break the almond paste into small pieces. Add the granulated sugar and mix until the mixture becomes crumbly.

Whip the Egg Whites: In a separate bowl, beat the egg whites until they form soft peaks. This will take a few minutes.

Combine and Flavor: Gently fold the whipped egg whites into the almond paste mixture. Add the almond extract and continue to fold until you have a smooth, sticky dough.

Shape the Cookies: Using your hands, roll small portions of the dough into 1-inch balls. Roll each ball in the pine nuts, ensuring they stick to the dough.

Bake: Place the pine nut-covered balls on the prepared baking sheets. Bake for about 15-18 minutes, or until the cookies are lightly golden.

Cool and Dust: Allow the cookies to cool on a wire rack. Once cooled, dust them with confectioners' sugar for that perfect finishing touch.
Video
Similar Recipes:
If you enjoyed making these Pignoli Cookies, you might also like trying other Italian classics like Tiramisu or Cannoli. Let us know if you'd like recipes for those!
I hope you enjoyed baking these Italian Pignoli Cookies as much as we do! Remember, the joy of sharing delicious treats is unparalleled, so share them with your loved ones. If you have any questions or want more mouthwatering recipes, feel free to reach out. Happy baking!
That's it for now, stay tuned for more culinary adventures. Until next time, happy cooking!
YouTube Video Credits:
Food Network