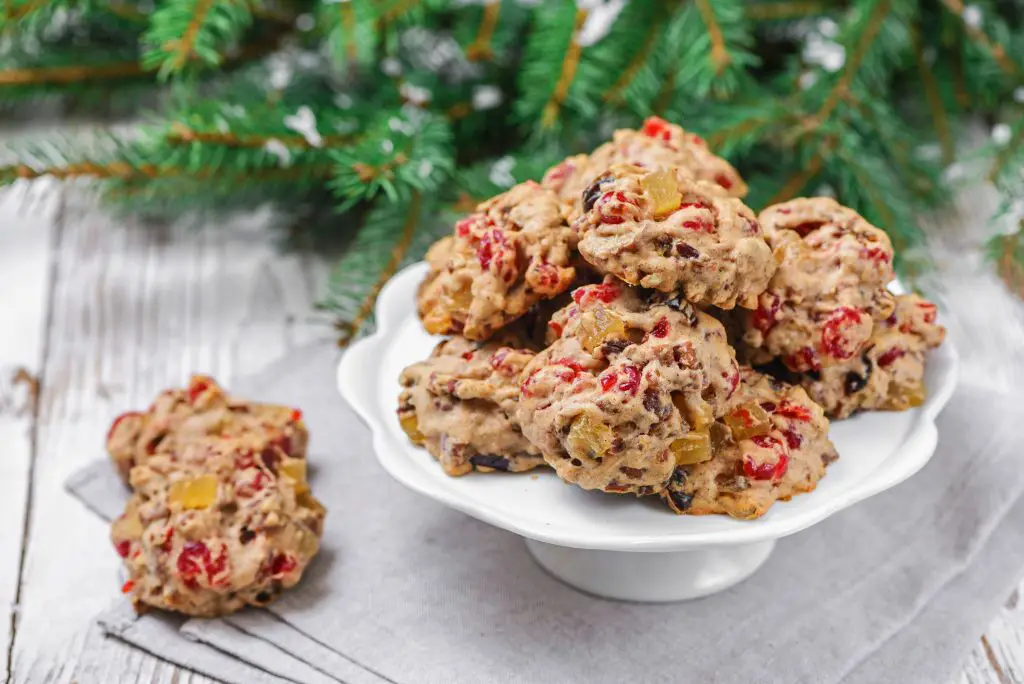 Fruitcake Cookie Recipe
Hey there, food enthusiasts! Today, we're diving into the world of sweet delights with a fantastic recipe that's perfect for any time of the year – Fruitcake Cookies. These delectable treats offer a twist on the classic fruitcake, delivering the same fruity goodness in a convenient cookie form. Whether you're a seasoned baker or a newbie in the kitchen, this recipe is a must-try. So, let's get started!
A Brief History:
Fruitcake cookies are a delightful variation of the traditional fruitcake, which dates back to ancient Rome. The concept of preserving fruits and nuts in honey and mixing them into cakes has been around for centuries. It eventually made its way to Europe, where it evolved into the beloved holiday fruitcake. Fast forward to today, and we have these mouthwatering Fruitcake Cookies, a delightful fusion of tradition and innovation.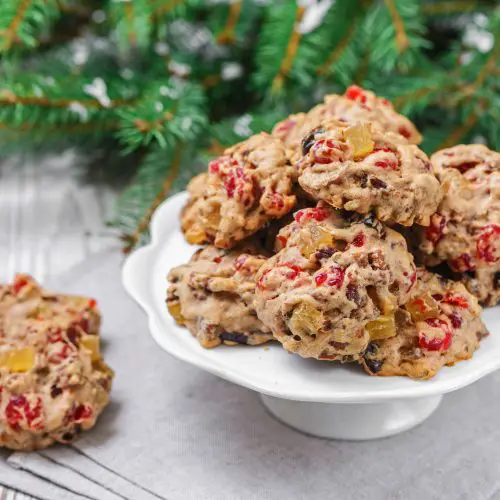 Fruitcake Cookie Recipe
Today, we're diving into the world of sweet delights with a fantastic recipe that's perfect for any time of the year – Fruitcake Cookies.
Equipment
Mixing bowls

Hand or stand mixer

Baking sheets

Parchment paper or non-stick baking mat

Cookie scoop or spoon
Ingredients
1 cup of all-purpose flour

1/2 teaspoon of baking soda

1/2 teaspoon of ground cinnamon

1/4 teaspoon of ground nutmeg

1/4 teaspoon of salt

1/2 cup of unsalted butter, softened

1/2 cup of granulated sugar

1 egg

1 teaspoon of vanilla extract

1 cup of mixed candied fruits (such as cherries, pineapple, and citron)

1/2 cup of chopped nuts (walnuts or pecans work great)
Instructions
Preheat your oven to 350°F (175°C) and line your baking sheets with parchment paper or use a non-stick baking mat.

In a mixing bowl, whisk together the flour, baking soda, cinnamon, nutmeg, and salt. Set this dry mixture aside.

In another bowl, cream together the softened butter and granulated sugar until it becomes light and fluffy.

Beat in the egg and vanilla extract until well combined.

Gradually add the dry mixture into the wet mixture, mixing until the cookie dough forms.

Gently fold in the mixed candied fruits and chopped nuts until they are evenly distributed throughout the dough.

Use a cookie scoop or spoon to drop rounded tablespoons of dough onto the prepared baking sheets, spacing them about 2 inches apart.

Bake in the preheated oven for 10-12 minutes or until the edges of the cookies turn golden brown.

Allow the cookies to cool on the baking sheets for a few minutes before transferring them to a wire rack to cool completely.
Video
Similar Recipes:
Looking for more sweet delights? Check out other cookie recipes like Chocolate Chip Cookies, Oatmeal Raisin Cookies, and Peanut Butter Blossoms.
Conclusion:
Incorporate a touch of tradition and a whole lot of flavors into your baking routine with Fruitcake Cookies. Whether you enjoy them as a holiday treat or a year-round indulgence, these cookies are sure to satisfy your sweet tooth. So, what are you waiting for? Gather your ingredients, follow the simple steps, and start baking these scrumptious cookies today!
YouTube Video Credits:
Food Network