Mixed Berry Jam Recipe
I'm excited to help you on this new food journey about mixed berry jam. This fruity concoction is not only a delectable treat but also a testament to the art of preserving nature's goodness. Let's dive in!
A Brief History of Mixed Berry Jam:
Mixed berry jam, like many jam recipes, has its roots in preserving the abundance of summer fruits. While it's difficult to pinpoint a single country of origin, it's safe to say that people have been making and enjoying berry jams for centuries. The practice of preserving berries in this way likely began in Europe and has since spread worldwide.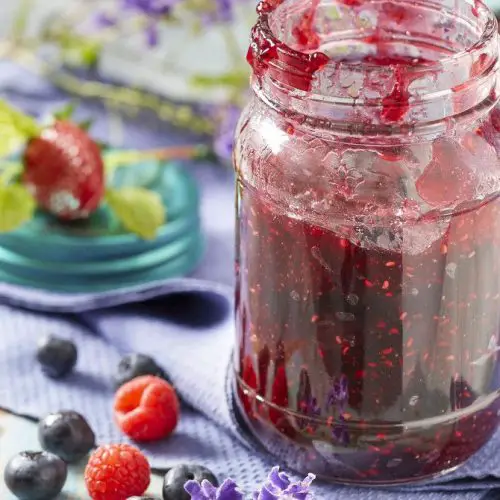 Mixed Berry Jam Recipe
Mixed berry jam, like many jam recipes, has its roots in preserving the abundance of summer fruits.
Equipment
Large saucepan

Wooden spoon

Mason jars with lids
Ingredients
4 cups of mixed berries (strawberries, blueberries, raspberries, and blackberries)

2 cups of granulated sugar

1 lemon (juice and zest)

1 teaspoon of vanilla extract (optional)
Instructions
Prepare the Berries: Wash and hull the strawberries, and rinse all the berries. Chop the strawberries and add them to a large saucepan.

Combine Ingredients: Add the rest of the berries, sugar, lemon juice, and lemon zest to the saucepan. If you like a hint of vanilla, this is the time to add it. Stir well to combine.

Cooking: Place the saucepan over medium heat and bring the mixture to a boil. Reduce the heat and let it simmer, stirring frequently, until the jam thickens and reaches your desired consistency. This can take about 30-45 minutes.

Test for Doneness: To check if the jam is ready, place a small amount on a chilled plate. If it wrinkles when pushed with your finger, it's done.

Jar and Seal: Pour the hot jam into clean, sterilized Mason jars. Seal them while the jam is still hot to ensure a proper seal.
Video
Similar Recipes:
– Blueberry and Lemon Jam
– Raspberry and Chia Seed Jam
– Strawberry-Rhubarb Jam
Conclusion:
In conclusion, mixed berry jam is a delightful way to savor the flavors of summer all year round. Whether you spread it on toast, use it in desserts, or give it as a thoughtful gift, this homemade jam is a winner.
YouTube Video Credits:
Coles