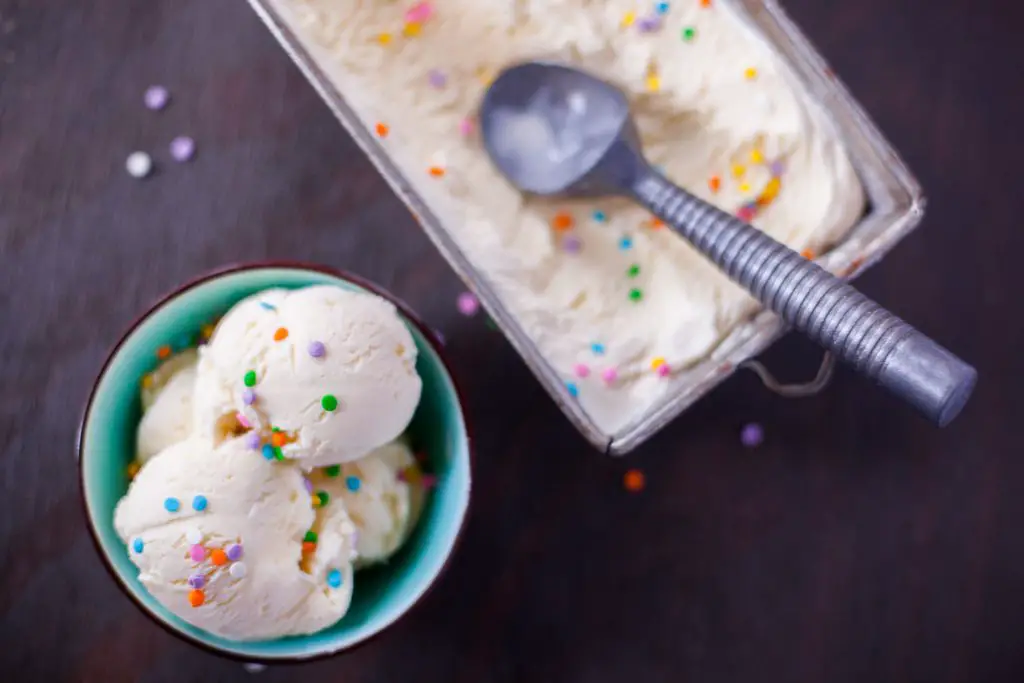 Cake Batter Ice Cream Recipe
Hey there, food enthusiasts! Today, we're diving into the world of sweet delights with a scrumptious treat – Cake Batter Ice Cream. This creamy concoction is sure to satisfy your dessert cravings and leave you wanting more. Join me on this delightful journey as we explore the history, ingredients, step-by-step instructions, and even some similar recipes. So, let's get started!
The Sweet History of Cake Batter Ice Cream:
Cake Batter Ice Cream has a fascinating history. It's believed to have originated in the United States in the late 20th century when ice cream makers started experimenting with new and exciting flavors. Inspired by the taste of cake batter, this flavor quickly gained popularity for its unique blend of creamy ice cream and the nostalgic essence of cake.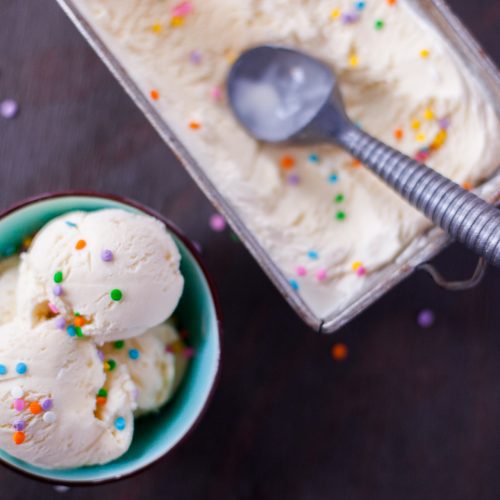 Cake Batter Ice Cream Recipe
Today, we're diving into the world of sweet delights with a scrumptious treat - Cake Batter Ice Cream.
Equipment
Ice cream maker

Mixing bowls

Whisk

Measuring cups and spoons

Freezer-safe container
Ingredients
2 cups of heavy cream

1 cup of whole milk

1 cup of granulated sugar

1/2 cup of yellow cake mix

1 teaspoon of vanilla extract

A pinch of salt

Rainbow sprinkles for garnish (optional)
Instructions
In a mixing bowl, combine the heavy cream, whole milk, granulated sugar, yellow cake mix, vanilla extract, and a pinch of salt. Mix until the sugar and cake mix are fully dissolved.

Pour the mixture into your ice cream maker and churn according to the manufacturer's instructions. This usually takes about 10-15 minutes.

Once the ice cream reaches a soft-serve consistency, transfer it to a freezer-safe container. If you want that classic cake batter look, fold in some rainbow sprinkles.

Cover the container and freeze the ice cream for at least 4 hours or until it's firm.
Video
Similar Recipes:
If you're a fan of Cake Batter Ice Cream, you might also enjoy these delightful variations:
1. Cookie Dough Ice Cream
2. Funfetti Cupcakes
3. Cake Batter Milkshake
There you have it, a delicious homemade Cake Batter Ice Cream recipe that's perfect for indulging in your sweet cravings. Don't hesitate to get creative with toppings or mix-ins. Now, it's your turn to whip up this delightful dessert and share it with friends and family. If you enjoyed this recipe, explore more tasty treats on our website, and stay tuned for more mouthwatering recipes and culinary adventures. Happy scooping!
YouTube Video Credits:
Homebody Eats