Chocolate Roulade Recipe
Calling all chocolate lovers! If you're looking for a dessert that will transport you to cloud nine, look no further than the heavenly Chocolate Roulade. This delightful rolled cake is a classic dessert that has been pleasing taste buds for generations. Not only is it a show-stopping treat, but it's surprisingly easy to make too! So, let's dive into the history of this delectable delight, the list of ingredients, step-by-step instructions, and equipment needed, and even explore similar recipes that you'll adore.
History of Chocolate Roulade:
The origin of the Chocolate Roulade traces back to the 19th century in Central Europe. Its creation is often attributed to the Swiss and Austrians who were known for their love of rich, indulgent desserts. Over time, the recipe spread throughout Europe, and each country added its own unique twist. Today, the Chocolate Roulade stands as a beloved classic worldwide, enjoyed by food enthusiasts across the globe.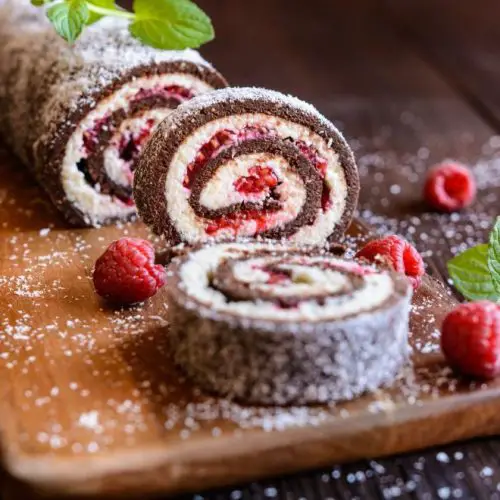 Chocolate Roulade Recipe
This delightful rolled cake is a classic dessert that has been pleasing taste buds for generations. Not only is it a show-stopping treat, but it's surprisingly easy to make too!
Equipment
Electric mixer (handheld or stand mixer)

Mixing bowls

Whisk

Rubber spatula

Parchment paper

Baking sheet

Cooling rack
Ingredients
4 large eggs, at room temperature, separated into yolks and whites

1/2 cup granulated sugar

1/3 cup cocoa powder (unsweetened)

1 teaspoon baking powder

1 teaspoon vanilla extract

A pinch of salt

1 cup heavy cream, chilled

2 tablespoons powdered sugar (confectioners' sugar)

1/2 cup chocolate chips (semisweet or dark), melted
Instructions
Step 1: Prepare the Baking Sheet

Preheat your oven to 350°F (175°C). Line a baking sheet with parchment paper, making sure to leave an overhang on all sides. This will help you easily lift the roulade from the sheet later.

Step 2: Beat the Egg Yolks

In a large mixing bowl, whisk the egg yolks, granulated sugar, and vanilla extract until the mixture becomes pale and creamy.

Step 3: Add Cocoa Powder and Baking Powder

Sift the cocoa powder and baking powder into the egg yolk mixture. Gently fold them in using a rubber spatula until well combined.

Step 4: Beat the Egg Whites

In a separate bowl, using a clean whisk attachment (if using a stand mixer) or a clean whisk, beat the egg whites with a pinch of salt until stiff peaks form. The egg whites should be glossy and hold their shape when the whisk is lifted.

Step 5: Combine the Mixtures

Carefully fold the beaten egg whites into the cocoa and egg yolk mixture. Be gentle to retain the airy texture.

Step 6: Spread the Batter

Spread the batter evenly onto the prepared baking sheet. Smooth the top using a spatula for a consistent thickness.

Step 7: Bake

Place the baking sheet in the preheated oven and bake for approximately 12-15 minutes or until the cake springs back lightly when touched.

Step 8: Roll the Roulade

While the cake is still warm, gently roll it into a log shape, starting from the shorter side. Use the parchment paper to help you roll it tightly. Allow the roulade to cool completely while still wrapped.

Step 9: Prepare the Filling

In a chilled mixing bowl, beat the heavy cream and powdered sugar until soft peaks form

Step 10: Assemble the Roulade

Unroll the cooled roulade and spread the whipped cream evenly over the surface, leaving a small border around the edges. Drizzle the melted chocolate over the whipped cream for an extra burst of chocolatey goodness.

Step 11: Roll It Up Again

Carefully roll the roulade back into a log shape, using the parchment paper to assist you. Place it seam-side down on a serving platter.

Step 12: Serve and Enjoy!

Slice your Chocolate Roulade into delightful rounds and serve. Each bite will melt in your mouth, leaving you craving more!
Video
Similar Recipes:
If you find yourself smitten by the enchanting flavors of the Chocolate Roulade, you'll surely fall for these delightful dessert recipes:
– Strawberry Cream Roll: Replace the chocolate filling with fresh sliced strawberries and a dollop of whipped cream for a fruity twist.
– Lemon Meringue Roulade: For a tangy treat, fill your roulade with lemon curd and top it with fluffy meringue.
– Hazelnut Nutella Roulade: Embrace the nutty goodness by spreading Nutella and sprinkling crushed hazelnuts over the whipped cream.
Now that you've discovered the delightful world of Chocolate Roulade and its variations, it's time to roll up your sleeves and try this blissful dessert yourself. Whip up this recipe for your next family gathering or special occasion and watch as your guests marvel at your culinary prowess. Don't forget to share your creations and spread the joy of this delectable treat with your friends and family. Happy baking!
YouTube Video Credits:
Home Cooking Adventure